Just a decade ago you would be challenged to find a
professional service (consulting, accounting, engineering, legal, etc.) firm
using any form of design (sorry, a Times New Roman logotype of the five partner
names on one line is not thoughtfully designed).
Today, you can find more professional services using
thoughtfully designed logos. From consulting firms like Bain to accounting
firms like Deloitte and even ' dare we say ' engineering and law firms like
TKDA and Gray Plant Mooty.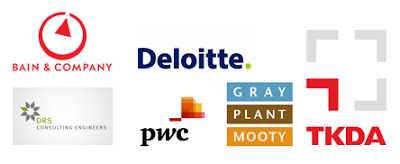 The quality of advice is often the measure of the quality of professional services such as these. But,
how does the client know what quality advice is? One, how do you define the
quality of advice and two, is it the advice or whether someone is motivated to
take the advice?
For the sake of brevity, let's just consider the
advice of a law firm. 
Have you ever run into a creative lawyer? Have you
ever worked with a law firm that designed their legal documents to be more
consumable by their clients? We have run into both a creative lawyer, many
actually, and we know of a law firm designing their briefs (sounds like
fashionable underwear). 
In our business, we work with a large number of
lawyers and have formed some lasting relationships. We have found a few firms
who have thoughtfully designed an experience; below is one of our intellectual
property friends for whom we designed a blog called: Duets.

The squirrel was written into this design story as
a protector of your nuts, a guardian of your most precious assets. This isn't
something most law firms would be comfortable projecting. And, for that matter,
most law firms are slow to move into social media in general. Stephen Baird has
designed an experience unique to his practice and has thoughtfully included the
voice of design.
It is a simple equation: the thoughtfulness of the
advice is equated and exemplified in thoughtfulness of the designed experience.
No client will say as such, except perhaps our design firm and a handful of
others. But, what clients
will
do is
judge based on the design of the experience without conscious consideration or
articulation.
The
voice of design is alive and growing inside professional services where a
person-to-person experience is suited to design thinking. If your professional
advisor seems to look, feel and express like all the others, maybe you should
reconsider the advice.
Aaron
Keller
Managing
Principal
Capsule