The traditional informed consent process in clinical trials is looking increasingly outdated, often proving difficult to understand for patients and harming recruitment rates for those running the trials. At the same time registries are complex, data and jargon-filled old-fashioned websites difficult for the average person to interpret.
TransCelerate sees embracing technology as the solution to these problems, championing the adoption of eConsent and creating a proof of concept platform of the "Clinical Trial Registry of the Future". We spoke to Laura Comer, Innovation Lead, Global Clinical Sciences and Operations at UCB, about the challenges that need to be overcome, and how the technology is helping.
What are the biggest inefficiencies in the traditional informed consent process and what challenges with respect to quality, compliance, patient understanding and trial retention does it create?
"Informed consent documents have become increasingly complex. The traditional format may make interpretation difficult for study participants and their families. Study participants who do not fully comprehend the study procedures and requirements are more likely to drop out of a study. Finally, the traditional format does not allow for integration with other systems on a study, which limits efficiency."
Practically, what techniques can be employed to create effective eConsent?
"Several techniques may be employed to support different learning styles of study participants. The following table lists the most common techniques."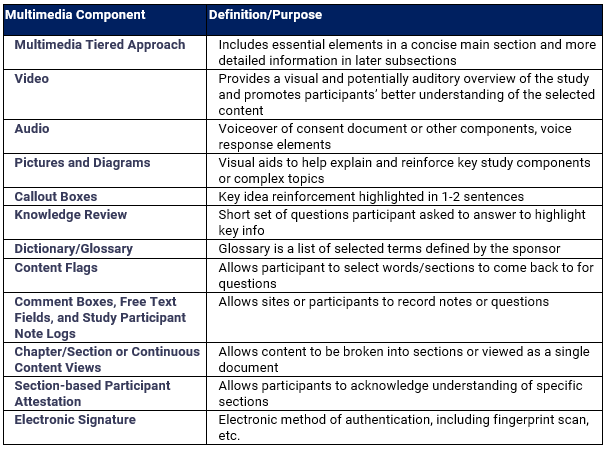 How does this help solve those traditional challenges? What sort of impact on quality, compliance, patient understanding and trial retention have you seen through the use of eConsent?
"By providing an electronic system that manages versioning, identifies missing or incorrect information quickly, and allows integration with other digital systems, data quality is improved, errors are reduced, and time is saved. The use of multimedia learning techniques in eConsent improves patient comprehension and therefore positively impacts patient retention. eConsent also allows for remote consenting and remote monitoring, which may reduce study participant burden and further improve efficiency in the consent process."
What is the "Clinical Trial Registry of the Future" platform proof of concept? How will it help patients find trials and reduce inefficiencies, and how Sponsors can report trials?
"Although there has been a concerted effort to improve clinical trial transparency, one side effect of this effort is a difficult-to-navigate landscape of clinical trial information, inclusive of the growing number of clinical trial registries. Despite this, patients rely on clinical trial registries. One of the world's most consulted registries, ClinicalTrials.gov, has more patient users than scientist/researcher users. The "Clinical Trial Registry of the Future" platform proof of concept is comprised of an interactive website mockup, demo videos and an eBook that collectively help illustrate the vision for a clinical trial registry design which accounts for the patients' perspectives. It outlines guidance and design principles for adoption by government-owned registries rather than serving as a blueprint for a new TransCelerate-owned registry.
Based on TransCelerate's research, the patients' perspective is underpinned by a need for clinical trial registries to be accessible, informative and trustworthy. The interactive website mockup enables better access to information through several new features, capabilities, and data fields which do not exist today, in addition to features which may already exist in certain platforms. Improving the accessibility of clinical trial information will likely streamline the process by which patients move from being informed to being actively engaged with clinical trials.
Realizing the vision for a trustworthy and informative "Clinical Trial Registry of the Future" will require sponsor engagement. Sleek user interface design is only as impactful as the content and data within. TransCelerate has recognized the value that clinical trial registration data presents for patients that are considering clinical trials. As such, TransCelerate is now working towards developing guidance and tools to enable sponsors to submit high quality registration data to registries like ClinicalTrials.gov. These developments are currently underway and are intended to complement the existing "Clinical Trial Registry of the Future" platform proof of concept."
A case study of TransCelerate's work and how collaboration can improve patient engagement is being presented at Clinical Trials Europe in Barcelona on 20 November. Explore the full agenda here.