For financial institutions, digital transformation is essential to future-proofing the business and improving customer experience, employee capabilities, operational efficiency, and business economics. This has become even more relevant in the Covid-19 crisis and the ability of FIs to respond. In light of this, IIF and Deloitte interviewed 80+ executives and leaders from across banks, insurers, regulators, and governments around the world. And now Brad Carr, Managing Director of Digital Finance, Institute of International Finance, summarises the key findings and the challenges in digital transformation.
Three themes from the IIF-Deloitte whitepaper series Realising the Digital Promise
One thing that resonates is that digitalisation is not an option. It's essential, and it's about keeping pace. It's required to be customer centric, and it's required to keep pace with the way that customers' expectations have changed and evolved.
The second thing that we noticed in our conversations with executives is that no one really mentioned technology. In terms of the barriers and challenges, the dominant part of each conversation has been about the human elements, far more so than issues with the technology itself. The technology is working, but the humans are still learning to work with it.
Megan Greene, Senior Fellow, M-RCBG, Harvard Kennedy School, even said it last year at RiskMinds Americas that generally when there are investments in new technology, it actually takes a long time to show up in productivity data. For example, the advent of PC took 25 years to show up in productivity data. The point is that humans take time to learn and they take time to adapt.
Digitalisation is not an option. It's essential, and it's about keeping pace.
Finally, the third theme emerging from the conversations is that Covid-19 accelerates and catalyses. In the cases below, Covid-19 was perhaps a catalyst to overcome some blockages, but many times, it prompted an overnight transformation. Martin Gilbert, Chairman, Aberdeen Standard Life Investments, observed that they've made more progress in ten weeks during the pandemic than in 5 years prior!
Top nine challenges to digital transformation in financial services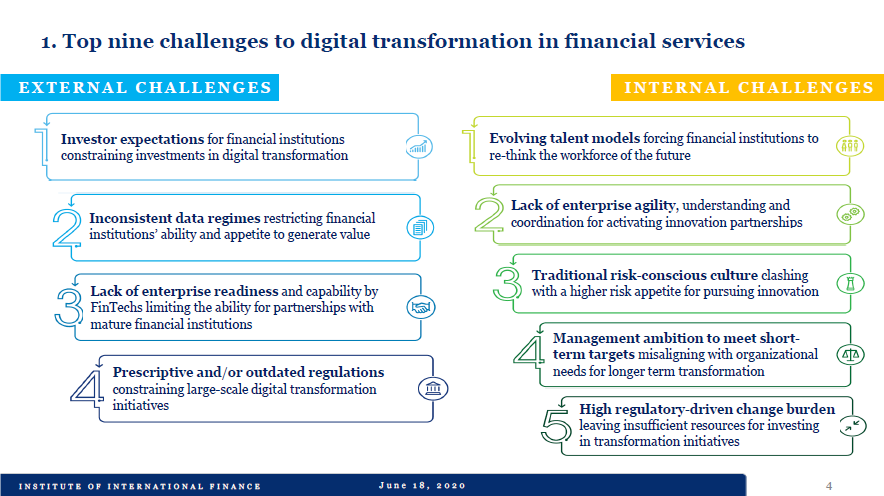 No. 1 external challenge: Investor expectations
We heard some really interesting anecdotes about investor expectations, the top external challenge on this list. One major European bank took 7 years to achieve their core banking system replacement project, for which their investors would never have had the tolerance or patience if it had been understood that that was going to be the duration of the initiative. So perhaps there is a bias towards short termism from investors who just don't have the patience for things that might have a longer run payoff.
There is another really interesting comment from the Chief Innovation Officer of a major American insurance company, which was that investors expect a coupon-like return, much like a bond investment. This would mean that the insurance company would need to be cautious and avoid experimentation that may put that coupon at risk. The perceptions from the investor community may not be as conducive for innovation as they may appear to be.
The technology is working, but the humans are still learning to work with it.
No. 2 external challenge: Inconsistent data regimes
Data regimes is also an important challenge, and again, we can't look at this without laying some Covid-19 element to it. The ability to report data across borders has become more important than ever. And indeed, it's one of the most critical items because it's part of the business continuity solution. We also need to be aware of the inconsistencies between sectors which could create disadvantages for firms in terms of what they can do with the available data relative to others.
No. 3 external challenge: Lack of enterprise readiness
Partnerships between financial institutions and FinTech firms is increasingly critical in bringing innovation to market. However, a lot of think tanks are not ready for partnering with banks. They're not scalable perhaps, and they're not enterprise-ready. There's a learning curve for FinTech firms, and substantial development is needed for them to be ready to partner a risk conscious and regulated bank.
No. 2 internal challenge: Lack of enterprise agility
On the other side of the same coin, however, are banks who are not ready to partner with FinTech firms. From a cultural standpoint, banks' internal process can be slow and cumbersome. From a regulatory standpoint, a bank or an insurer may perceive a regulatory blockage or barrier which is actually more a function of their own internal assessment. So financial institutions and FinTech firms are not always prepared to make those partnerships that they need to, and there is work to do on both sides to better accommodate each other's processes.
Humans take time to learn and they take time to adapt.
No. 1 internal challenge: Evolving talent models
Talent as a top internal challenge was surprising, but also unsurprising. I was expecting to hear more about the difficulty of attracting the right talent to stay competitive, but the conversations did not centre around talent acquisition; it was specifically about retention. Large firms are attractive because they can pay competitively and offer an opportunity to do interesting work with deep datasets and to learn about the ethical use of data. But retaining these talents is a much bigger challenge, in some cases, because firms may not provide the cutting-edge tools that the workers want to work with. Banks might also have trouble demonstrating a sense of purpose which millennial workers may be looking for, and in some cases, there's also the element of remuneration structures that was the issue. Chief Digital Officers and Chief Innovation Officers have overwhelmingly identified talent retention as a massive issue.
No. 4 internal challenge: Management ambition to meet short-term targets
Relating to the challenge of investor expectations, a Chief Innovation Officer, who has worked in both banking and insurance, observed that the management ambition and focus on short-term targets is an issue in both sectors. It's a bigger problem in banking, however, because the nature of banking, thanks to constant customer engagements and their ability to turn your book in a given year. But in the case of insurance, particularly life insurance, you might never interact with the client, and you might only have the ability to turn 10% of your work in any given year. Interestingly, this CIO learned in banking about PLL, and in insurance about balance sheets. So the focus on short-term targets and strategies, or rather tactics, is a broad issue across the industry.
You can find out more about the various challenges executives have faced in Realising the digital promise pt 1 and pt 2.
This article was based on the webinar presented by Brad Carr and Jaco Grobler, Chief Risk Officer, First Rand Bank, Balancing the digital promise with risk. Watch it below: