"2050 is a fixed date; it's one project timeline that will not change", we were reminded at RiskMinds Climate Change Risk & ESG. Many businesses have already taken their first steps, but many still haven't. To help you out, here's a quick overview of the areas that are of most interest to the sector and where key challenges will turn up.
Forecast
The physical impact of climate change has been known for many years now. The most known one is global warming – a misnomer, if you think about it, because there's more to it than rising temperatures. Rising temperatures cause the ice caps melting, which in turn raises the sea-level, which could put many countries in danger of flooding… or just under water! Extreme weather events, like colder winters and hotter summers, will be more common, and so will heatwaves, droughts, and wildfires. These events will disrupt and destruct natural resources like forests and wetlands which will accelerate the impact of climate change.
No sector is immune to climate change risks, and therefore all sectors need to evaluate their supply chains to understand where disruption might occur.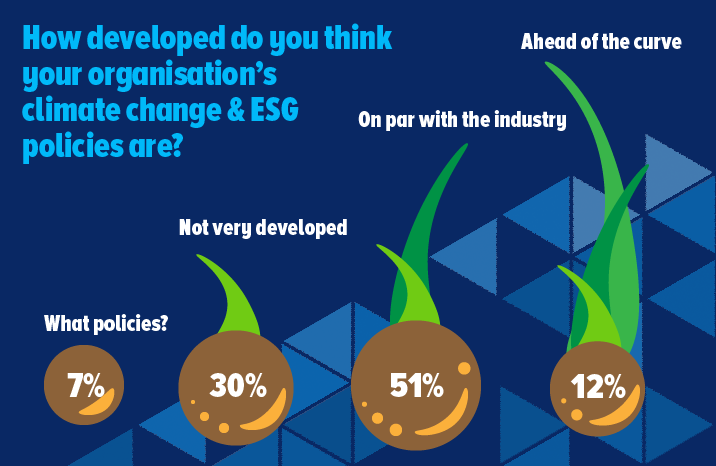 Although about 1 out of 2 risk managers see themselves as on par with the industry, our speaker faculty noted that it's not really where you want to be.
Energy transition
In response to climate change risk, the energy sector is also transforming. According to Mark Lewis, Chief Sustainability Strategist, BNP Paribas Asset Management, the energy transition is driven by five Ds:
Decarbonisation,
Deflation of fossil fuel resources,
Demand rising across the globe,
Detoxification of urban areas, and
Dependence on imports.
Decarbonisation – the goal of reducing our CO2 output – is self-explanatory. But it's worth noting that the possibility of carbon pricing initiatives will kick in in the future, perhaps lead by the US, where there is bipartisan support for it. At the same time, fossil fuel resources are becoming scarcer, while renewable energy is becoming cheaper. From an investment perspective, fossil fuel based energy is adding up to be a costly bet. Energy demand is also rising across the globe, while urbanisation projects that drive the demand are also looking to detoxify. Air pollution linked deaths and health complications are at the forefront of consumers' thoughts and are driving climate change policies in cities. Finally, with geopolitical tensions rising, depending on another country for energy is not sustainable.
The developments in this area are fast – faster than you'd think, with the pandemic accelerating the transition. Wind and solar demand, for example, rose, while overall energy demand decreased in 2020.
Operationalise
Incorporating ESG, whether that's the environmental part or social part, will also bring transition, and therefore transition risk, within your business. This could be orderly, like the way you might adapt to the energy transition trends, or disorderly as a result of disruption. It's important to re-evaluate the risks contributing to orderly and disorderly transition because the environment in which financial services operate in transform so quickly. Changing social attitudes, social unrest, and political changes can all add up to disruptive forces.
It's all about data
An important part of the conversation at RiskMinds Climate Change Risk & ESG was climate change data. It's universally acknowledged at the moment that data is hard to access, and even if you do access it, it's imperfect. Although data is improving, there's a need for it to improve faster because successful transition is dependant on the reliability of the data.
How do you feel about ESG data that's available today?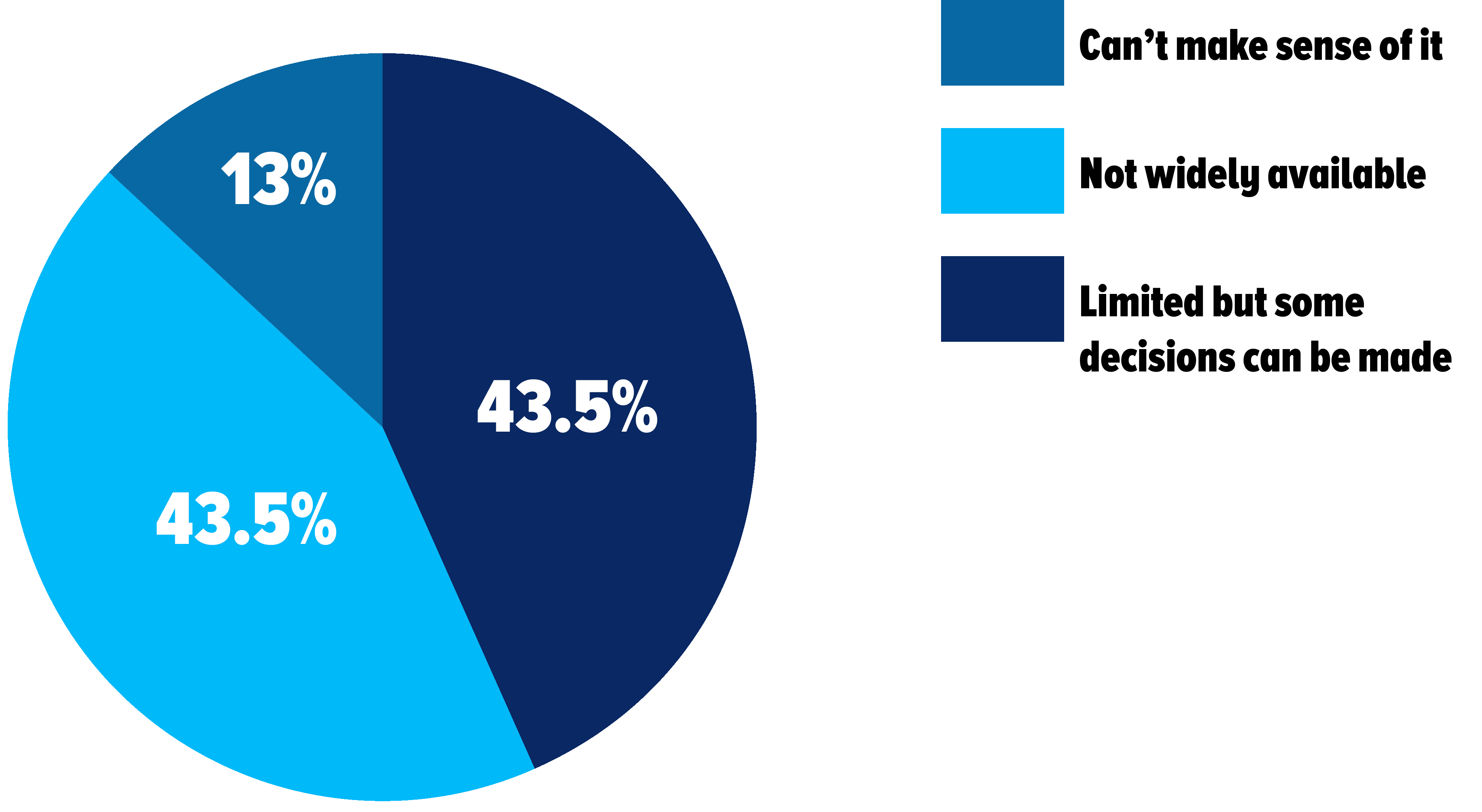 Implement
At the moment, there are many 3rd party providers that offer ESG ratings, however, these ratings can vary from provider to provider due to the differences in data, assumptions, and methodology. Therefore, it's important to unpack the ratings to understand the logic behind them and potentially apply regional and even sector differences.
Like any model, climate scenario analysis needs to improve over time. Specifically, there's a need to integrate climate science into financial modelling by taking into account physical risks and transition risks.
Which do you think is the main hurdle your organisation faces in addressing ESG?
Budget (12%)
Talent (3%)
Subject matter expertise (29%)
Prioritisation/ materiality (29%)
Organisational/ governance structure (9%)
Data (18%)
One parting advice we got from Marcus Chromik, Chief Risk Officer & Board Member, Commerzbank, was to copy and paste. There's no need to reinvent the wheel. Perhaps there's an approach already out there that suits your business, and that you can use and adapt to your own needs!