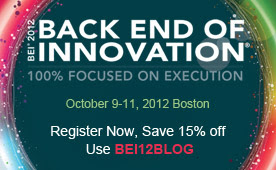 BEI: Back End of Innovation is a conference focused 100% on execution so that innovation becomes measurable, repeatable and sustainable - not just an one-off occurrence.
At BEI, it's all about making it happen. It's about commercializing ideas and creating new value that drives bottom line profitability. Register now and save! 
Here are some of this year's program highlights:
' The Best Speakers: Bringing you the best in innovation execution: Johnson & Johnson; 3M; Whirlpool; Hewlett Packard; Motorola; IDEO; United Nations Foundation; GOJO Industries; iRobot; Pitney Bowes; SPARC; Spots Tracking Systems; Avery Dennison; Dell; AT&T; Boeing; GE Energy; NASCAR; BYK USA Inc and many more...
- Download the brochure to see full speaker list and session descriptions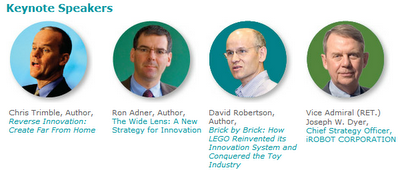 ' Full Day Summits: Choose from 2 Summit options on RETURN ON INNOVATION or PORTFOLIO MANAGEMENT. These two Summits are tailored around effectively measuring and communicating innovation revenue goals AND maximizing new product development to drive breakthrough solutions.
' Workshop: Attend the Workshop on Leading Innovation, an interactive leadership workshop that teaches you how to solve the challenge of executing innovation initiatives.
' Collaboration Sessions: 30 minute collaboration sessions led by Jonathan Vehar, Senior Faculty at the Center for Creative Leadership, will set the stage for each of the core content areas.
' New Core Content Areas: Featuring sessions on Leadership & Organizational Structure, Partnering Across the Eco-System, Creating a Repeatable Innovation System and Commercialization. Download the brochure to see full session descriptions.
' Four Learning Formats: Choose from four different learning formats that encourage interactivity: FIRESTARTER, CHAMPION, SANDBOX and CLASSROOM.
' Tangible Take-Aways to Bring Back to Senior Management: After each session, your team will work together to create a PowerPoint that will be immediately distributable to your colleagues when you leave the event. Download the brochure to learn more about this year's event!
BEI explores Innovation in practice that will prepare you with new skill sets, talents and leadership to PUSH innovation further in your organization.
Register now to lock in the lowest rate! 
Registration Information: 

Register before this Friday, 6/15/12, and save $400 off the standard and onsite rate! Please mention your priority code to save an additional 15% off: BEI12BLOG
Online: http://bit.ly/OiXfD9
Email: register@iirusa.com
Phone: 888.670.8200