In our recent survey of professionals working in oligonucleotide, peptide, mRNA and gene edited therapeutics, just less than half described their companies' partnering and licensing as having increased since the start of the COVID-19 pandemic. The vast majority of others said that these activities had stayed about the same for their organization.
Explore the full Oligonucleotide, Peptide, mRNA and Genome Edited Therapeutics State of the Industry Report 2021 here.
Accelerated collaboration
While 78% of the respondents had said their companies had developed their most advanced programs in house, 22% said that their companies had licensed them in, a 2% rise since 2019.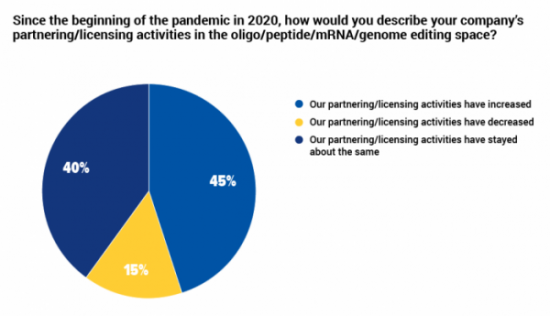 The majority of respondents working in biotech companies (50%), service providers (100%) and investment (100%) said that collaborative activities had increased, while 67% of those working in consultancies said that they had decreased, and 60% the respondents working in academic institutions said that these activities were about the same since the pandemic began.
Shifting strategies
The survey respondents were also asked to describe the effects of the pandemic on their companies' partnering and licensing activities.
Some respondents reported that entering into new products created an increase in partnering activities within their organization. Some also expressed that limited access to labs and academic research during lock-down has forced their companies to look into new strategies to carry out their research.
Selected responses include:
"Covid mRNA vaccines have raised all RNA Therapeutic boats ;)"
"We are establishing oligo capabilities this year. Hopefully in few months time, we will enter into collaboration with small biotech"
"We have seen a 400% increase in demand"