FEI is a mini-masters program in innovation and as a former professor often notes, 'the real value is in the content in between the sessions'. The intellectual capacity in the rooms always surpasses any speaker on the stage. If you listen for the content you can hear the digital roar of knowledge in fingers tapping on keyboards and digital screens. Listen, engage with it, add to it and you will capture the greater value of a mini-masters in innovation. Here are 5 tips to engage with social media now that you are ready to receive and learn (check out our first blogpost to prepare
http://bit.ly/1UMYSgI
).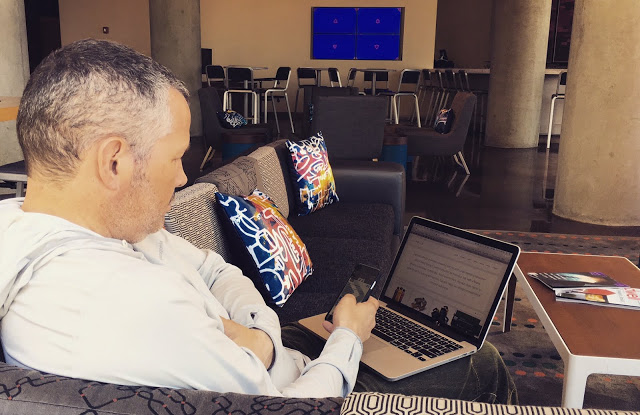 (1) Prepare your social mindset and gather your tools. Pen. Paper. Digital Device. Social media is your access pass to all things innovation this week. Appreciate the help with your note-taking and dive into that intellectual deliciousness and all that it offers.
(2) Say no to FOMO (Fear of Missing Out). Use #FEI16 and follow
@fei_innovation
and
@capsuledesign
to see what is going on outside of the sessions you are attending. Actually, see what others are saying about the sessions you are attending. Nod in agreement. Or share a different perspective. Join the innovation conversations already happening - and start a few more.
(3) Read and comment (and share) the @fei_innovation blogposts. Engage. Like. Favorite. RT (retweet). Ask a question. Chime in on a conversation. Offer a different take. Share a photo. Does something remind you of an article, book, or a person? You guessed it, share it! *We would be happy to share on your behalf. Let's meet up for a quick 5 min chat over the next 3 days.
(4) Share a takeaway or quote from each session you attend. Again, use #FEI16 to link the info you are sharing with other attendees. This virtual connection with other #digitalcapsules (what we are calling the shares across social media) could lead to new acquaintance, speaker intro, or a better understanding of content. All good things.
(5) Give yourself permission to be in the moment. Don't feel pressure to share in social media real-time if that scares the bejesus out of you. Some people need time to process. Some people do better not multi-tasking. Listen, take notes, or share a photo of an interesting note you captured. But please know that your voice should be heard, whether in between sessions, before dinner, or at the end of the evening.
Listen for quiet roar of digital innovation and jump into the lion's den.
We're listening and looking to engage with you. Seek us out, find us in the crowd and we will do what we can to share your story. We'll be sharing content here, on
Twitter
,
Instagram
,
LinkedIn
,
Medium
and perhaps a few other platforms.
Managing Principal, Capsule
Director of Digital and Social,
Capsule