This phrase could have been coined for Clay Christensen. The breadth of his work, his knowledge of innovation and his capacity to deliver his message with intent and considered deliberation is matched only by his height and presence. This gentleman is awesome.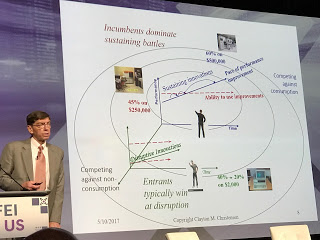 At Day 2 of FEI 17, Professor Clay Christensen pivoted the language from consumer focused to job focused, or in his words, "What job is your client hiring you to do?" And the reason that up to 80% of innovations or inventions fail is because we are clueless as to the job our customers are trying to do.
In an exercise that actually surprised me, when the audience was asked where they would go if they had to furnish their apartment tomorrow, over 90% responded with IKEA. Now that's powerful branding. I actually wanted to tell my US colleagues that my response was the same, that I am sure if the question had been asked at an innovation conference in Melbourne, still 90% of the audience would have said IKEA. The brand just "popped" into people's minds when the question was asked.
This 90% response was in relation to the job that had to be done. Granted you can spend your day running around from department store to department store seeking all the different items required to set up house. Or you can go to IKEA and get it all there. Job done.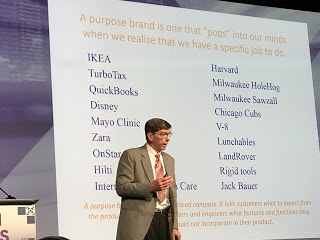 Should you want to make it sooner rather than later, and increase those odds for success from 80:20 to a little higher, be a disruptor. Disruptors are great for the economy. They come up with a new product that then needs to be made and made again as demand for the product increases. There are spin off jobs post manufacturing for disruptive products, including delivery, service
and beyond.
According to Professor Christensen, the next industry that needs disrupting is Education. For my money, the sooner the better.
Christina Gerakiteys is Founder and Creative Director at Ideation At Work, a creativity and innovation consultancy.