Signals Analytics took a closer look at the next top 5 trends in the CPG space (including F&B) in 2019. Using it's unique on-demand data platform, Signals Playbook™ collects and contextualizes trillions of external data points, Signals presents what they see as the key emerging trends that will take off in 2019.
Download the full White Paper HERE
A Higher Interest Level In Cannabis
The Trend
Hemp and specifically cannabidiol (CBD) are now everywhere! Together with legalization, there is a growing awareness of the benefits of the plants' derivatives as we all search to improve health with a more holistic approach.
According to GlobalData Consumer, consumers are now more concerned about mental well-being than physical fitness. Hemp and CBD are a great fit. They are associated by consumers with a relaxing feeling – though it has no psychoactive effect – and hence presents a unique messaging opportunity in a world dominated by increased stress and fatigue. Also, these wonder plants also have many health benefits, ranging from vascular to degenerative diseases.
The Signals
In skin care and cosmetics, there have been recent launches ranging from niche to mainstream. Estee Lauder's Origins Brand Hello, Cal­­m mask, is formulated with non-intoxicating cannabis sativa seed oil from hemp. Not only does it hydrate the skin but also "soothe, calm, and help in de-stressing the senses." The benefits claimed by hemp and CBD in skin care products include anti-aging properties, anti-inflammatory to treat conditions such as psoriasis and acne, moisturizing to treat dry skin, and eczema.
This snazzy mascara by Milk make-up, seems to encompass it all. Not only does it promise to condition lashes and provide smooth application enabled by hemp-derived cannabis oil, it is also vegan and cruelty-free.   
CBD and Hemp are starting to emerge in F&B
Sampled Data - Consumer discussions over time around Hemp in Chocolate & Coffee
Source: Signals Playbook™ Insights
As we can see per the chart below, in the US, hemp is being widely discussed in the water category, with positive sentiment, yet there are very few products in market currently offering this ingredient, indicating a clear white space.
Consumer unmet needs comparing consumer discussions with products in market in the Water Category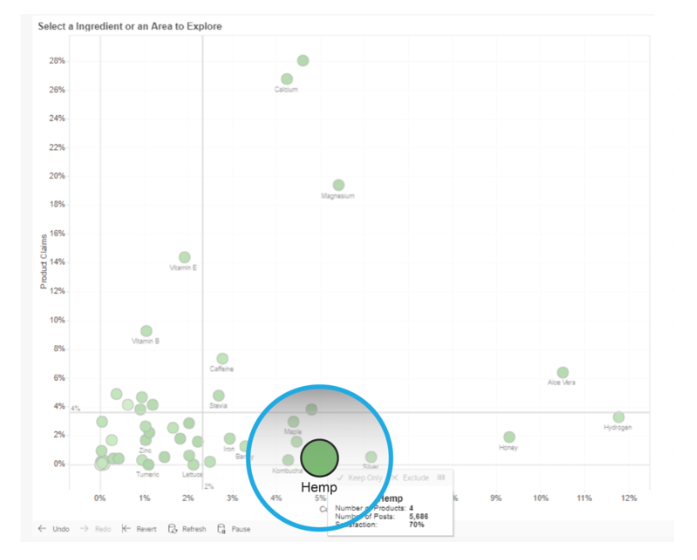 Source: Signals Playbook™ Insights
Over the pond in the UK, "Love Hemp Water" is now in market. It is spring water infused with drops of CBD hemp droplets. Hooray for the #HempRevolution!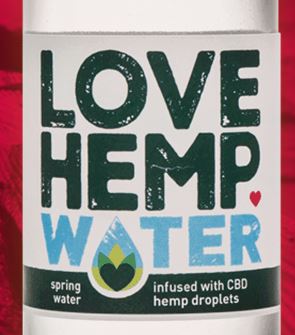 Trendspotting: Expectations for 2019
While hemp has been a part of non-food categories for a long time, we see the evolution of this trend across various F&B industries, led by small and young brands. This trend should continue growing in 2019, spilling into more and more categories. Specifically, we anticipate a rapid expansion in snacks and confectionery.
Download the full White Paper HERE