Building a consumer-centric culture is difficult. So how do you achieve that goal? The key is expanding the conversation beyond the insights team to everyone who is customer facing: marketing, product, and customer support. Some call it the democratization of consumer market research. We call it good business.
When your team engages directly with consumers, they develop a first-hand understanding of their lives and needs. This helps them develop empathy for the consumer and encourages a consumer-centric mindset. This mindset prioritizes the voice of the consumer, not only when big decisions need to be made, but on a daily basis within the team. This enables your teams to make better decisions, develop better products, and deliver better campaigns. When access to the voice of the consumer is democratized across the organization, it has the potential to affect a widespread culture change and make the organization a leader in innovation.
Start connecting to:
• Establish empathy for consumers
• Make faster, more informed decisions
• Develop deeper category understanding
• Shatter preconceptions and build excitement in the team
• Create more effective marketing and products
• Build a more consumer-centric culture
Connection, what is it good for? Absolutely everything!
Do you have a burning question that you'd love to run by a consumer? Are you maybe feeling a little disconnected from the consumer's perspective? Do you want some expert input on something your team is developing? Whatever the reason, having regular conversations with consumers allows you to make strategic decisions rooted in more than just assumptions.
Here are some examples of times when we've found it useful to connect: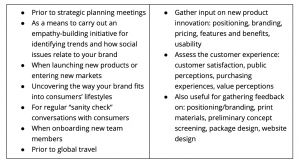 Use case examples
How your team uses a Connects program is entirely up to you. Here are just two examples:
A category lead at a multinational snacks company wanted her team to develop a better understanding of their category in a specific region. Launching a consumer-centricity initiative, she mandated her team connect directly with affinity consumers within their category for one hour every month. The regular conversations enabled the team to develop empathy, creating a greater understanding of their everyday lives, motivations, and perspectives. The results of these individual conversations were compiled into regular reports that were sent across the team, giving greater visibility to larger themes that were developing across the conversations.
A multinational CPG company had long embraced consumer-centricity, but they were looking for a way to operationalize the process to help it scale. They already engaged with consumers often, but they wanted to put some more guardrails in place and to set up proactive scheduling. They initiated a Consumer Connects program which combined executive leadership, training of the non-insights but customer facing functions (marketing, CX, customer service), a centralized technology platform (Discuss.io), regular meeting cadence, and permission for these non-insights team to engage with consumers on a regular basis.
Getting started
Interested in launching a consumer engagement initiative within your organization, but not sure what is involved? Discuss.io helps brands launch programs within their organizations. Check out our 6 Step Guide to Operationalize a Consumer Connects Program eBook for rolling out a program of this nature and to learn more about next steps.
About the Author: Jim Longo is the co-founder and chief strategy officer at Discuss.io, a consumer-connection platform for market research. He brings over 25 years of domain expertise in the market research industry. Jim is considered a thought leader with regards to online behavior and market research technology. He has consulted with brands and research agencies around the world on how to have insightful online conversations and was instrumental in building the first global online qualitative research practice at Harris Interactive (acquired by Nielsen). There, he led a team that conducted more than one thousand online groups in the first three years of its existence.