In 2021, 38% of Canadians reported experiencing loneliness or isolation due to the pandemic. 41% of adults living in the US reported signs of anxiety and/or depression.
The mental health of millions took a hard hit due to COVID-19. Job and income losses, limited access to medical services and supplies, and a general sense of isolation were some of the factors that affected the stats cited above.
But how have people's experiences of COVID-19 changed since 2020? In May 2020, the team at Upsiide studied a representative group of 400 people in the US and Canada, asking them which activities they missed doing the most while social distancing. The activities varied from going grocery shopping, to attending sports games, to giving hugs. And with Upsiide's unique Trade-Off score, we were able to get at the heart of the question; of 42 different activities, we asked people to tell us which they missed and which they didn't. Of those activities that they did miss, we forced them to make a decision: which did they miss most?
Results were so interesting that we decided to run this study again this year, including questions to ascertain how people's physical and mental well-being were impacted by the pandemic, so that we could track shifts from 2020 to 2021.
The insights gathered didn't disappoint. And while it's important to note that the COVID-19 restrictions and vaccine rollout timings have varied in the US and Canada, the impact of the pandemic is evident for both Canadians and Americans in these studies.
Before we begin, let's quickly run through the different scores on the Upsiide platform. The extent to which each activity is missed is based on three scores - the Interest Score, the Trade-off Score and the Upsiide Score. The Interest Score is the proportion of people who liked an idea and is expressed as a percentage. When respondents like two ideas, they are asked to trade-off between them, picking a favourite - which generates the Trade-off Score. Finally, the Upsiide Score is based on a combination of the Interest Score and the Trade-off Score - it's an absolute score that's been calibrated to predict sales in-market.
So what key takeaways did we discover from our studies?
Overall, we found that there has been a shift in people's priorities. In 2020, the most missed activity was 'going grocery shopping', which scored 67 in the Upsiide Score. It dominated  across all demographic groups, and the difference in the Upsiide Score between this activity and 'hanging out with my friends' (which stood in second place) was 18 points. This year, 'going grocery shopping' moved to fourth place, earning an Upsiide Score of only 60 and ceding first place to 'going out to restaurants and bars' (70).
The most popular activities in 2020 vs 2021: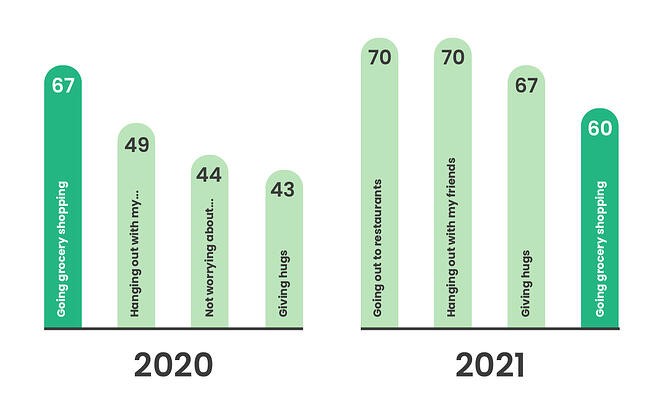 But does this mean that the only change that occurred since last year is that people really missed food they hadn't cooked themselves? Not really - let's look at the overall picture.
People are crying out for a little human connection
The quadrant charts below plot all 42 activities into four brackets, according to the balance between their 'total Interest' - how many people swiped right - and their Trade-Off Score - how often they chose the specific activity when pitted against another activity that they liked.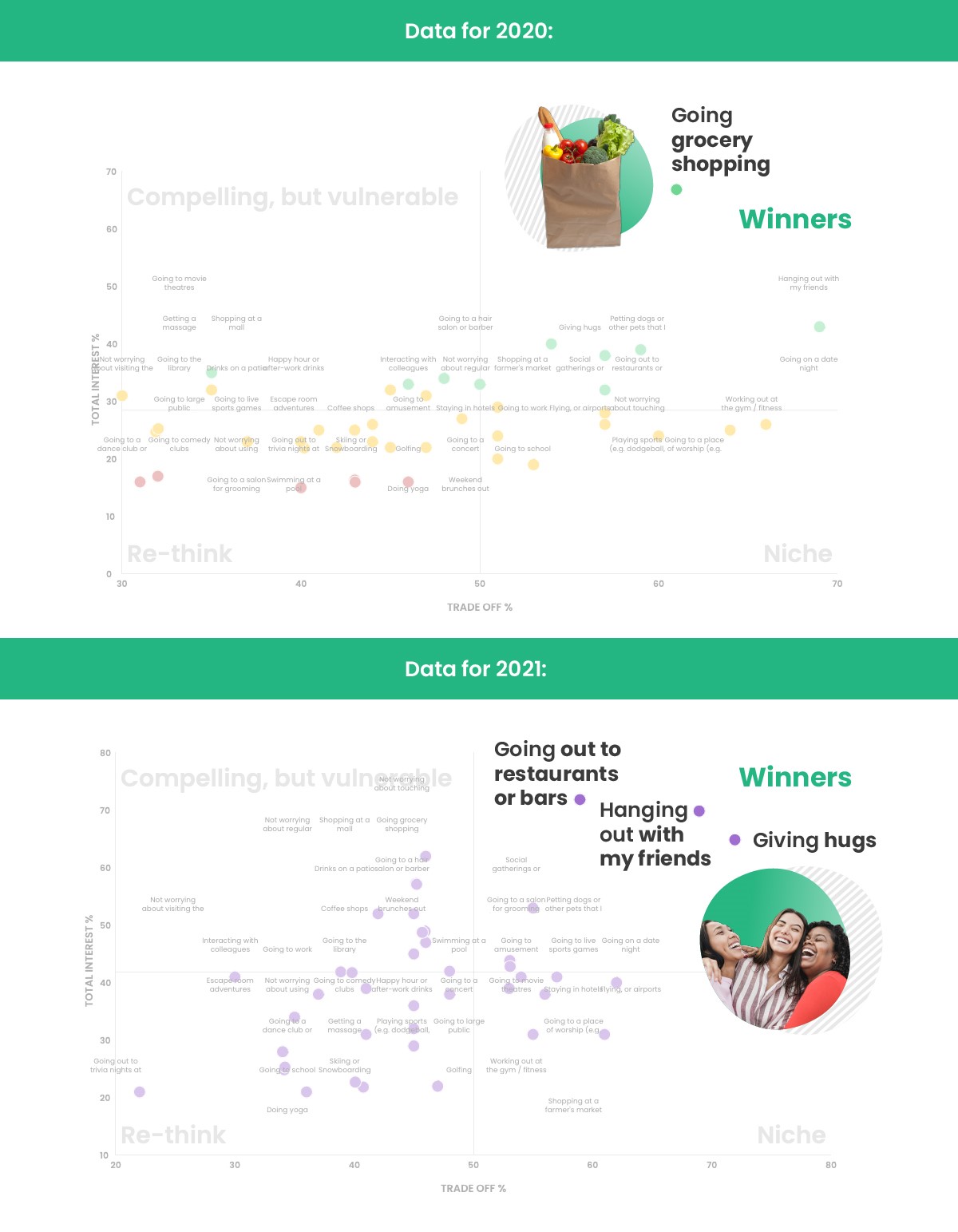 In 2020, activities that had the highest Interest Scores are practical tasks like 'going grocery shopping' and 'not worrying about touching things in public'.
In 2021, the top performers are more emotional. Consider what unites things like 'hanging out with friends', 'going to restaurants and bars' and 'giving hugs'; they mean people and human connection. In contrast, 'going grocery shopping' (a task that's typically done solo) now sits in the 'Compelling but vulnerable' quadrant, meaning that respondents found this activity interesting but didn't pick it when pitted against other activities.
The overarching insight is that people's priorities have moved from the practical to the emotional this year. In 2020, it was all about getting back to those regular aspects of their routine. Something as seemingly ordinary as going grocery shopping was what people yearned for.  But a year on, and as restrictions lift, many respondents have been granted the gift of these simple and mundane tasks. Now, it's about regaining human connection, things they can do with their friends and family.
Now, how did this fact affect specific age  groups? Let's have a closer look.
18-34-year-olds want to go back to the life they used to have
As COVID-19 restrictions gradually loosen up, and more public spaces open in Canada and the US, it looks like younger generations are starting to remember what their life was like in pre-COVID times. 'Shopping at a mall' (Upsiide Score of 64) and 'going to amusement parks' (64) are in the top 5 most-missed activities for 18-34-year-olds. To compare, these activities ranked 13th and 18th in the 2020 study. This year, 'going to a concert' has a Trade-off Score of 64%, which means that this group would rather head to a live concert than 'go grocery shopping', which only got a 36% Trade-Off Score.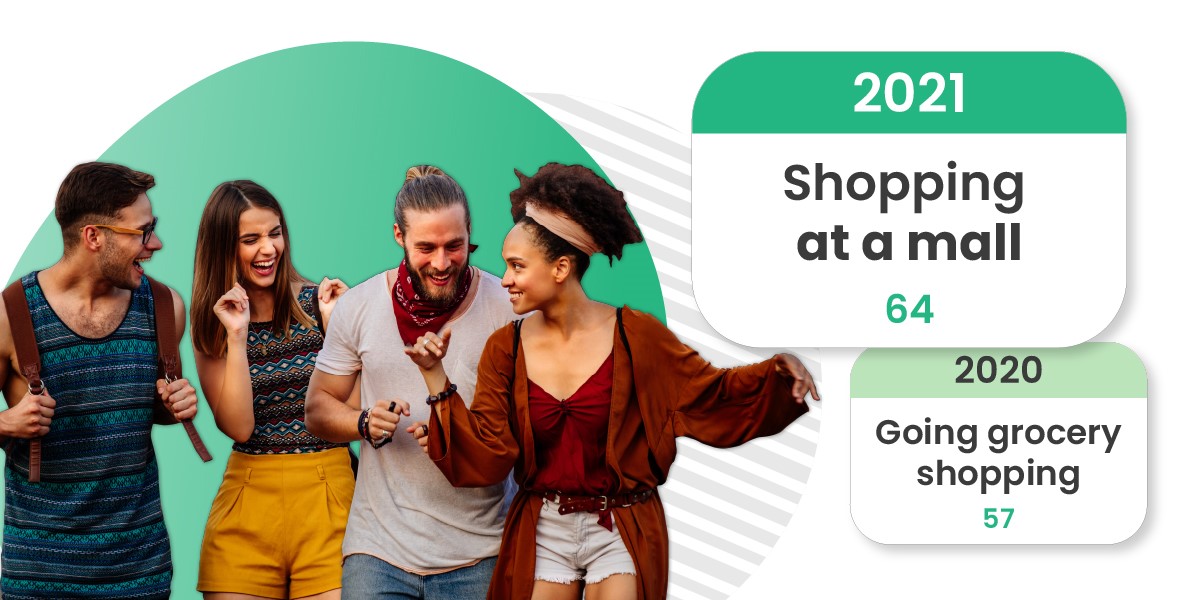 The data doesn't lie - for the most part, younger generations are open to getting back to large groups of people and crowds. This is hugely relevant for any businesses in the entertainment industry - 18-34 year olds want a taste of the pre-COVID times.
People over 50 especially miss human connection
While the need for more social activities is evident across all age groups, respondents over 50 seem to be the most affected. In 2020, this group chose 'going grocery shopping' as their most missed activity, giving it an Upsiide Score of 72. 'Going grocery shopping' was so popular that the difference between this activity and the next most missed activity ('not worrying about touching things in public') was a whopping 27 points. It seems that in 2020, the older generation worried more about how they complete their routine tasks than other "emotionally-driven" activities like 'giving hugs' (the Upsiide Score 44) or 'hanging out with my friends' (42).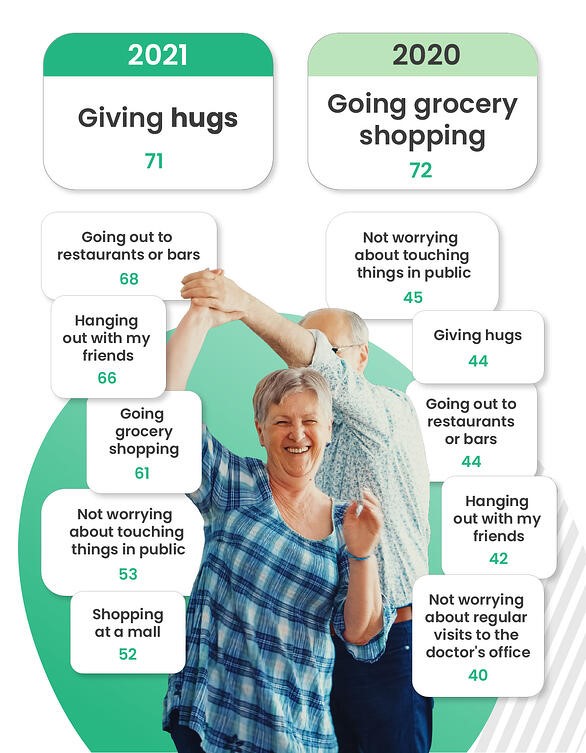 But when we look at the results from this year, the most missed activities are 'giving hugs' (the Upsiide score 71), 'going out to restaurants' (68) and 'hanging out with my friends' (66). What can we make out of this data? We can assume that in the context of the pandemic, when  health officials made a warning that older generations are more susceptible to getting COVID-19, this demographic group felt particularly isolated from the rest of the population. This likely had a huge impact on their mental health and can explain why they've most missed the activities listed above. 
Physical and mental health are so closely linked.
We've discussed mental health quite a bit, but what about physical health? This year, we asked respondents to tell us how their physical and mental health had changed (if at all) since last year. 27% of respondents told us that their physical health has worsened in 2021, and approximately the same percentage told us that their physical health had gotten better this year.  The interesting bit comes when we cross-reference those that feel their physical health has worsened since last year; they also feel their mental health has worsened since 2020. The data demonstrates that health is...health. And while some people think of physical and mental health as separate things, they're far more connected than people used to think.
This becomes even more apparent when we look at what might have helped respondents maintain their physical and mental well-being throughout the pandemic; words like 'exercise' and 'activities' come up in both cases. One of the respondents wrote that "not being mentally stressed out" would have helped them be healthier because this mental state "in turn caused a bit of laziness". This statement demonstrates the connective tissue between physical and mental health. We should think of health holistically to best understand the results.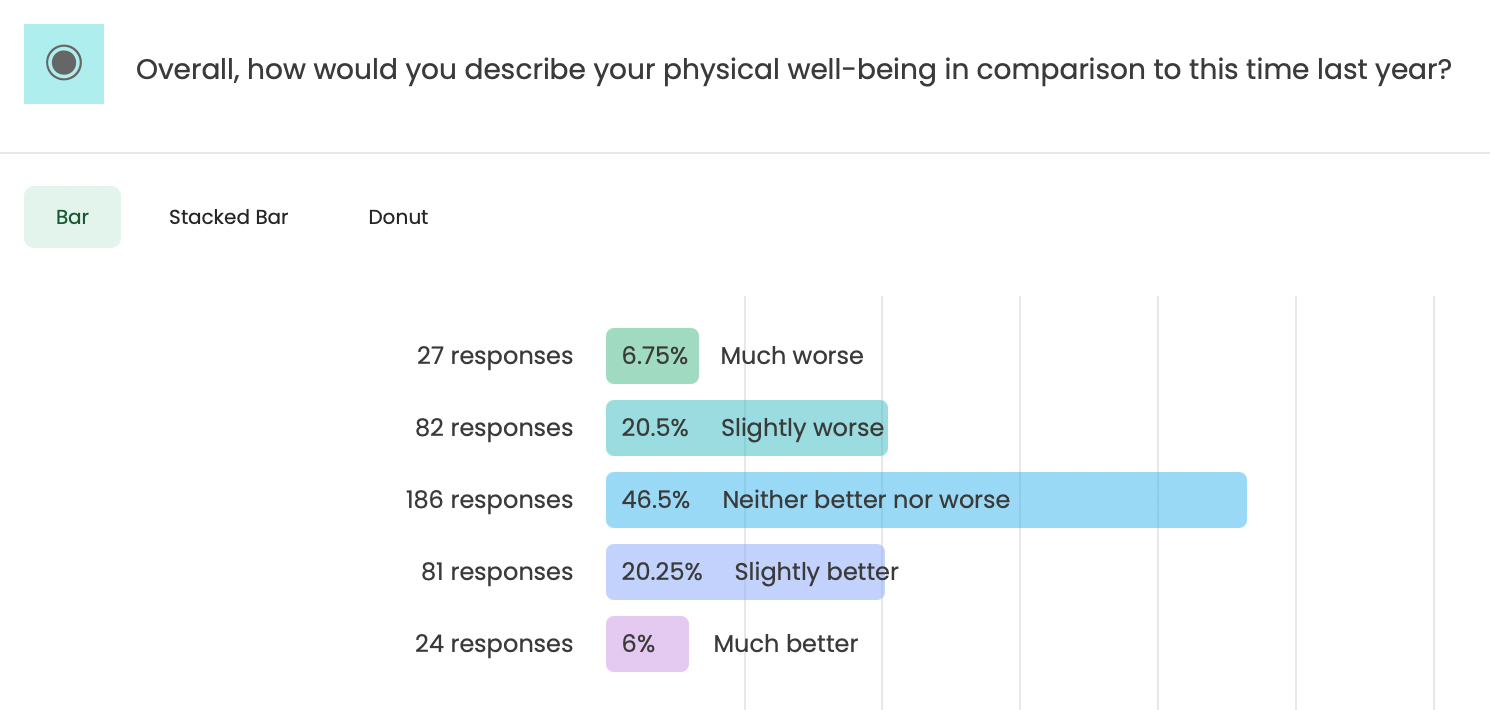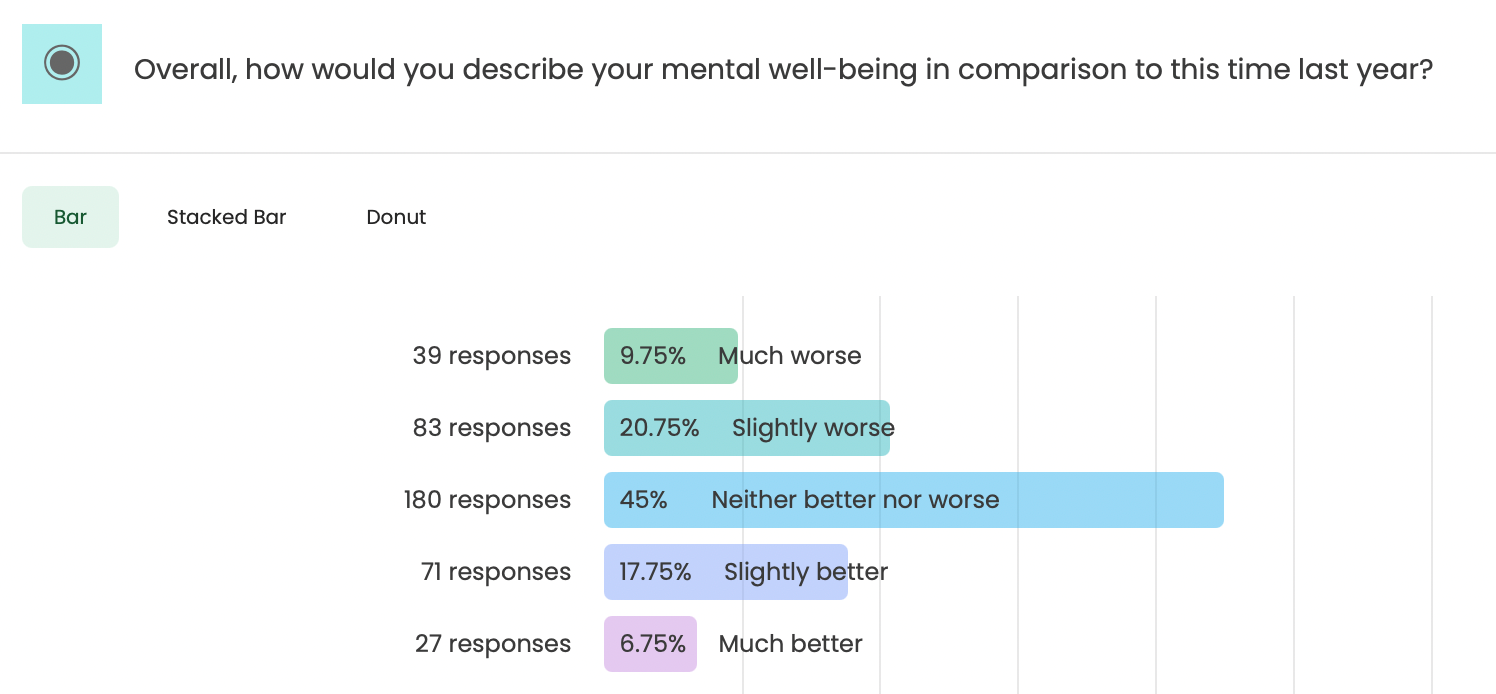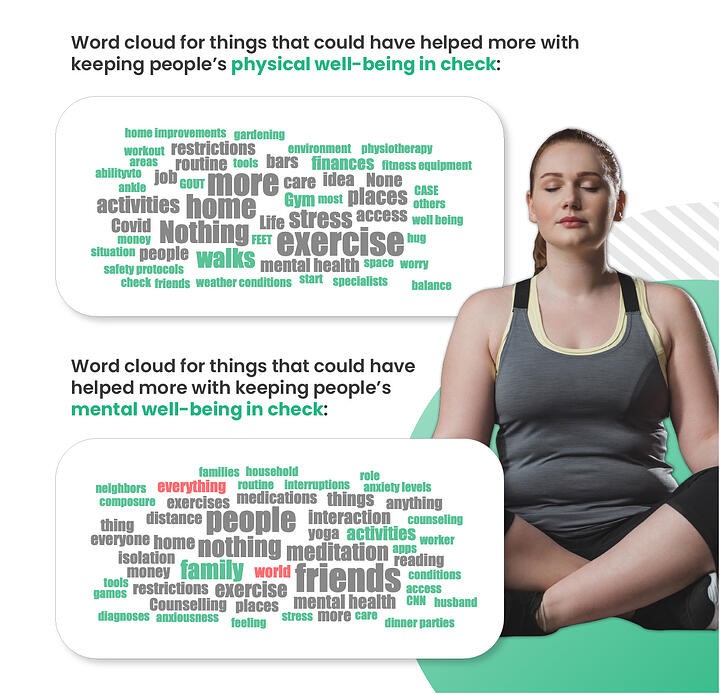 A final note
There are so many other insights that these studies have revealed about the realities of post-pandemic life. As the world is "opening up" again and people are navigating through the new normal, we're curious to know how things will change in the coming years.
If you'd like to dig deeper into our research about the activities people miss doing in 2020 and 2021, there's two full studies to explore - we'd love to show you more.