India's air traffic is expected to grow sixfold in the next 20+ years, but will the 3rd largest aviation market be able to handle this increase in traffic? Ahead of GAD Asia, APAO India breaks down what is happening in this space right now.
The Ministry of Civil Aviation's (MoCA) Vision 2040 report projects air traffic in India to rise nearly sixfold, from 187 million in 2018 to 1.124 billion in 2040. The National Civil Aviation Policy (NCAP) 2016 also set the target of reaching 700 million passengers by 2027 at a CAGR of 9.5% and expanding airport capacity in India more than 5 times to handle a billion trips a year in the next 10 to 15 years.
To achieve this vision and to give more thrust to airport infrastructure in line with the fast pace of passenger traffic growth over the past couple of years, the government has envisaged several policy measures including development of 100 new airports in the next 10-15 years at an estimated investment of close to USD 60 billion (about Rs 4.2 lakh crore). Among them, 70 airports will be at new locations while the rest will be second airports or expansion of existing airfields to handle commercial flights. A large percentage of the investment is to come from the private sector.
During FY 14-18, investments made on airport infrastructure is close to Rs 16,000 crore. In the next five years, aviation sector in India will see an investment exceeding Rs 1 lakh crore (US$ 15.52 billion) for capacity augmentation and development of new greenfield airports.
The AAI alone would infuse Rs 20,178 crore in the next 4-5 years for development of infrastructure at 22 AAI Airports: Chennai, Guwahati, Lucknow, Agartala, Patna, Srinagar, Pune, Trichy, Vijayawada, Port Blair, Jaipur, Mangalore, Dehradun, Jabalpur, Kolhapur, Goa, Rupsi, Leh, Calicut, Imphal, Varanasi & Bhubaneswar.
AAI has already awarded the works at Agartala, Calicut, Port Blair towards construction of new state-of-the-art integrated terminals and is in the process to immediately approve the works for upgradation and expansion of capacity at Chennai, Lucknow and Guwahati Airports, at a cost of Rs 2467 crores, Rs 1383 crores and Rs 1232 crores, respectively. (The Cabinet Committee on Economic Affairs (CCEA) had on 2nd May 2018 approved investments in expansion and upgradation of integrated terminals in Chennai, Guwahati and Lucknow by AAI).
Similarly, upgradation of airside capacity by way of strengthening and extension of runways, construction of new apron bays has been taken up to cater to the demand. The AAI is set to add 273 parking bays at 24 airports to help resolve the impending parking woes of airlines.
AAI on 22nd February 2019 announced spending of Rs 620 crore on 8 AAI airports in the country to upgrade and revamp airports infrastructure. The 8 AAI airports are Trivandrum, Calicut airports in Kerala, Mangaluru airport in Karnataka, Madurai airport in Tamil Nadu, Rupsi airport in Assam, Jaipur airport in Rajasthan, Amritsar airport in Punjab and Imphal airport in Manipur.
A capex outlay of Rs 50,000 crore is expected to be infused for the development of new greenfield airports such as Navi Mumbai, Noida International Airport (Jewar), Mopa (Goa), Purandar Airport (Pune), Bhogapuram Airport (Visakhapatnam) and Dholera Airport (Ahmedabad).
Besides, upgradation and expansion have been proposed for Delhi, Bengaluru, Mumbai, Hyderabad airports under the private sector, which will require an investment of Rs 25,000-30,000 crore in expanding the existing capacity by 2021.
Green signal for airports has been fast-tracked. Projects worth $2.99 billion to build and modernise airports have been recommended green clearance. In FY19 itself, AAI plans to invest $2.22 billion. In February 2018, the construction of Navi Mumbai airport was launched under the PPP model.
In FY 2018-19, the Government of India inaugurated new international airports at Pakyong in Sikkim (inaugurated on 24th September 2018, Cost – Rs 553 crore), Tezu in Arunachal Pradesh, Jharsuguda in Odisha (inaugurated on September 2018) and Kannur International Airport (inaugurated on 9th December 2018).
The government has also granted "in-principle" approval for setting up of the 18 greenfield airports:
Shirdi and Sindhudurg in Maharashtra,
Bijapur, Gulbarga, Hasan and Shimoga in Karnataka,
Durgapur in West Bengal,
Dabra in Madhya Pradesh,
Karaikal in Puducherry,
Kushinagar in Uttar Pradesh,
Dholera in Gujarat,
Bhogapuram in Vizianagaram district near Visakhapatnam,
Dagadarthi Mendal in Nellore district, and
Oravakallu in Kurnool district in Andhra Pradesh.
The government has also granted "site clearance" approval for setting up of greenfield airports at Machhiwara in Punjab, Itanagar in Arunachal Pradesh, Jamshedpur in Jharkhand, Alwar in Rajasthan, Purandar in Pune. and Kothagudem in Telangana.
The Cabinet Committee on Economic Affairs on 28th February 2019 has given its approval for development of New Greenfield Airport at Hirasar, Rajkot, Gujarat at an estimated cost of Rs 1405 crore.
The major constraint which can impede the sector's ability is the airport infrastructure bottlenecks. The robust growth in air traffic has led to capacity constraints and increasing congestions at the Indian airports and a capacity shortage looms large, in terms of runway slots, parking bays or terminals, in the years to come. Today, at least 25 of the 50 busiest airports in India are already operating beyond their capacity, while almost all the others will reach optimal capacity soon with the industry growing at an unanticipated 18-20% every year. Further, India could face a capacity crisis without construction of 50 new airports over the next decade. Overcapacity or lack of sufficient infrastructure can lead to various problems such as long delays and congestion at the airport.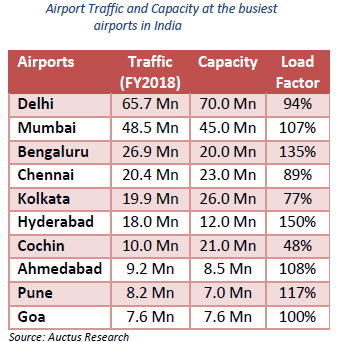 Source: Civil Aviation & Cargo Knowledge Report by Auctus Advisors, August 2018
There is a growing impetus in the sector towards building new airports and expanding existing ones to meet the rising demand.
Taking cognisance of capacity constraints at the airports in the country, the government is preparing a comprehensive 25-year masterplan for airports to keep pace with the double-digit growth in passenger traffic. A slew of new airports are in the anvil to be developed in public private partnership (PPP) mode.
India needs to construct an additional 500-600 million of airport capacity by 2030 which will need an approx. USD 45 billion (Rs 3.0 lakh crore), which is much higher than around Rs 52,000 crore incurred over the last decade. Besides the Capex required for expansion and modernisation of existing brownfield airports, 55 to 60 new airports are estimated to be required by 2030. All this will require approx. 150,000 to 200,000 acres of land to be allocated for the development.
AAI is expected to be able to invest approx. Rs 65,000- 70,000 crore only (out of this, approx. Rs 4 bn or 4000 crore ($60.13m) will be for the expansion of Dabolim International Airport, Goa) and hence the balance Rs 2.25 to 2.5 lakh crore would have to come from private players.
In FY 2018-19, AAI plans to build 15 new terminal buildings. It will invest Rs 15,000 crore to expand the existing terminal buildings and construct new ones.

This article is part of a series detailing the Indian Civil Aviation Sector. Stay in the loop – create a KNect365 account.