Professionals antibody engineering and therapeutics have rated antibody drug discovery processes as the field's top challenge in therapeutic R&D and manufacturing.
A recent study of professionals across the industry revealed unique insights into the current and future trends in antibody-based therapeutic development, including the latest movements in therapeutic antibody discovery. You can explore the full report here.
The field's biggest challenges
Most of the survey respondents in the study say that antibody drug discovery processes such as screening, characterization and target identification are the biggest challenges in their R&D and manufacturing.
Financial challenges are the second major challenge, including limited funding opportunities and keeping R&D costs low. Supply chain challenges were found in third place, as respondents describe experiencing shortages in equipment, raw materials and animal models.
Antibody discovery according to therapeutic areas
When asked to identify the most important area of antibody therapeutic development, discovery, selection and screening strategies were identified as the second highest aspect by survey respondents, with novel targets for antibodies in first place. Professionals working in inflammation, rare diseases, obesity, ocular and cardiovascular conditions say antibody discovery is the most crucial development aspect in their projects.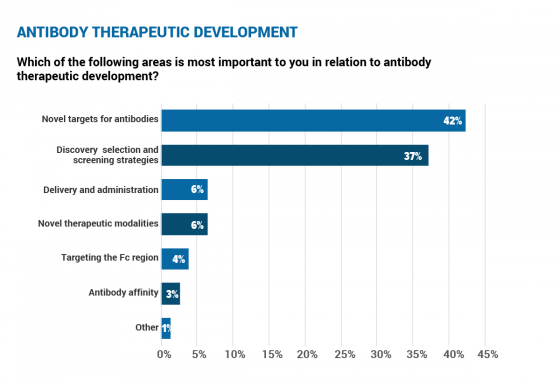 The biggest technology gap
When asked where is the biggest gap in technology for antibody discovery, selection and screening, the respondents most commonly suggest cost-effective tools for phage display, target selection and large-scale screening of antibodies. Tools for efficacy testing and prediction, such as 3D models, are also identified as a major need in the industry.
The responses included:
"Lack of in vitro models"
"Phage display technology"
"Initial target selection"
"Diversity of Ab repertoires and functional screening"
"Using genetics and AI to discover new targets"
"Fluorescence-activated Cell Sorting"
"3D model selections"