FEI Europe 2016 presentation by Bernhard Kowatsch, Head of Innovation Accelerator, World Food Programme
The World Food Programme (WFP) have a big goal - Zero hunger by 2030. Currently 1 in 9 people are chronically hungry, and (as shown in the diagram below) although we are reducing global hunger, it will take more than what we're currently doing to meet this goal. Innovation is required.

image from conference presentation
WFP is a global not-for-profit in 82 countries and has 1,122 Non-Government Organisation (NGO) Partners. Bernhard took us though a few of the projects they have running, demonstrating how the innovation they can be looking for in a project is not necessarily the latest technology; reasonably low-tech solutions can have a bit impact in this sector.
The learnings they found on using Lean methodology in this large organisation included: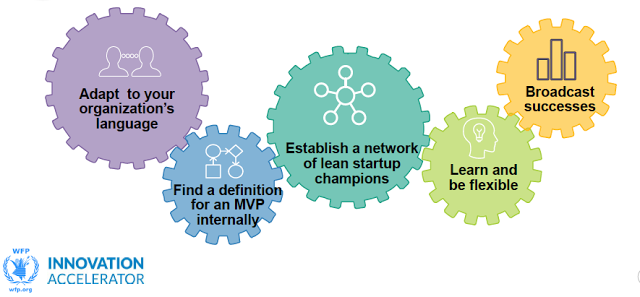 image from conference presentation
Another key message Bernhard conveyed was the importance of working on the ideas that have the most impact. One challenge they've found at WFP is that startups in this space only have limited awareness of what may be the real problems on the ground and sometimes an issue can be fixed with very little effort if you find the right model. Working with startups in this space has helped them all learn off each other, and solve problems faster.
ABOUT THE AUTHOR: Dr Claire McGowan is CEO for SODA Inc. (SODAinc.com), a Founder-focused incubator and Wintec company based in Hamilton, New Zealand. Claire has trained as a life scientist, worked in venture capital and investment banking, and built and sold several businesses, including IPMarket.com. @clairemcgowan @Soda_inc @IPMarket