I believe I have just witnessed the most effective start to a conference. Ever.
I often find myself telling clients to begin as they mean to end. And that is just what happened at the opening of the FEI Conference this morning.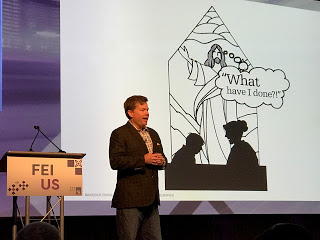 Mike Maddock (CEO, Maddock Douglas), Peter Koen (FEI Advisory Board, Chair) and Mike Patrick (Volvo Group Trucks Technology) all shared stories about the long term effects their attendance and then involvement with the conference and its delegates had had on their careers, relationships and therefore their lives.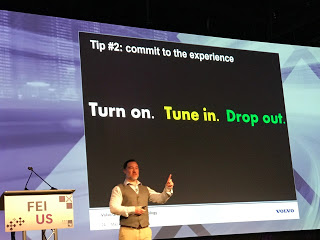 I am also undertaking a doctorate in the Long Term Effects of Workshops, Seminars and Conferences. It is normal for us to be excited for the duration of the conference we attend. We have every intention of activating the learnings on our return to 'normality', and we hope to enthuse our colleagues with our leanings. Evidence shows this rarely happens. Our colleagues don't share our enthusiasm, our inboxes hold 100s of missed emails and we get buried in the day of day tasks of our jobs.
This morning, these 'normalities' were challenged from the onset. Mike Maddock shared the success of networking at the FEI conference. He met his current business partner at an FEI conference some years ago.
Peter Koen began his presentation with a question, "Are you wasting your time at this conference?' He then engaged participants in a questionnaire to reinforce the importance of: evidence based innovation; the crucial role of leadership; ambidexterity and the role it plays in success; taking deep dives as opposed to shallow wades; and the crucial role of human centred design in defining problems and the importance of the Lean Start Up Model.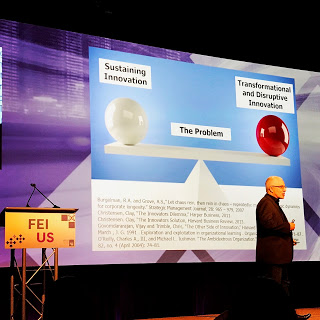 Koen then returned to his original question. He encouraged participants to become students of innovation. As the designer and facilitator of the Rippler Effect Innovation Program, I was completely in harmony with Mike Haddock's introduction of Peter. He described Peter as having a rippling effect.  Peter dropped the pebble of the FEI conference in a pool of water. It caused a series off ripples all the way to the embankment and then flowed back again.
It's not enough to simply attend a conference. It's the ripples that happen in the aftermath. The benefits are in the long term effects of the friendships formed, the collaborations instigated and the knowledge that is shared. And then shared again.
Christina Gerakiteys is Founder and Creative Director at
Ideation At Work, a creativity and innovation consultancy.