Innovation is source of fascination and fear for executives and managers of enterprise companies. Various surveys of business leaders by Harvard Business School, Boston Consulting Group and Innovation Leader put the problem for enterprise companies into focus:
30 percent of board members rank innovation among their enterprise's top three challenges.
19.5 percent of BCG's clients rank commercializing ideas as their biggest innovation challenge.
31 percent of innovation leaders say a risk-averse company culture is their biggest innovation roadblock, while 25 percent say it's a lack of coordination.
In my previous life at HP, I learned valuable lessons about the challenge of managing innovation. Most people who hear "managing innovation" think of supervising teams of scientists, engineers and developers to come up with amazing new technologies and products. The real challenge of managing innovation, however, is in taking a holistic view of what needs to happen for an innovation to be commercially as well as technically successful.
Early on, I was the finance director for HP's effort to enter the on-demand photo printing market. We had an investment grade proposal that pointed to favorable factors (we had novel technologies adjacent to our existing product space and incumbents in the target market were struggling). The projected size of the market led us to project a cashflow that valued the enterprise at $1.7 billion. We would invest in feasibility demonstration, development and production scaling, and market launch, and then earn back our investment and profit in market scaling.
As the project progressed, we met our objectives in feasibility demonstration. It took a bit longer than we expected and cost a bit more, but our cashflow projections still forecasted a $1.6 billion valuation. Development and production scaling and market launch took substantially longer than we'd planned, but we were still on track to a $1.4 billion valuation. There was more schedule stretch in our market scaling, pushing our valuation down to $1.2 billion.
Then HP canceled the project. Why would they turn down a billion dollars?
They looked into the evidence of the value of the business. At the outset, it appeared that there was an opportunity with ample upside potential.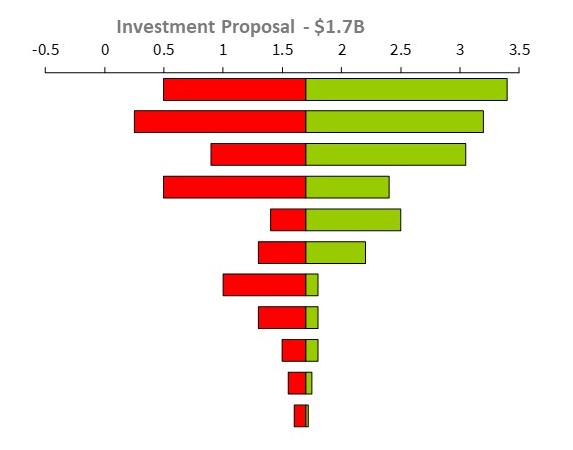 But by the time we reached Phase 3, market scaling, the upside almost completely evaporated and there was a disturbing downside.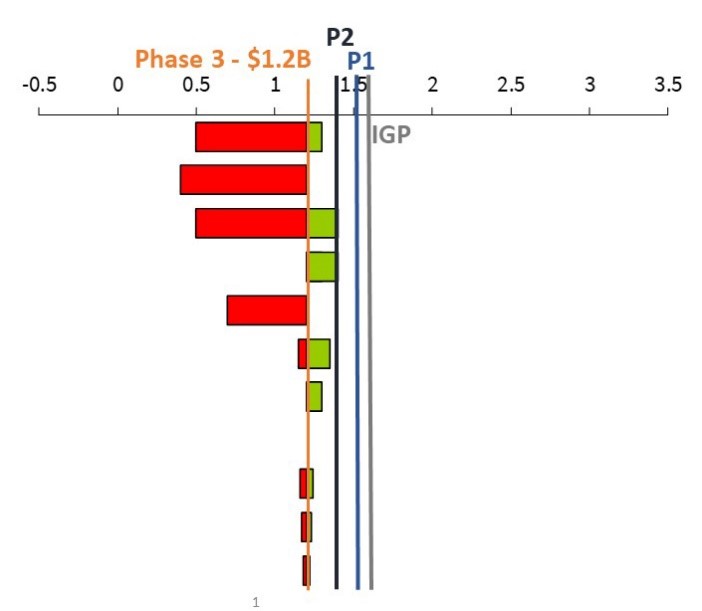 This reflected the knowledge we gained over the course of the three phases. On the plus side, we were far less ignorant of the product-market fit. On the minus side, the fit was not nearly what we had hoped. The probability was that the future would keep pushing the value of the business ever lower, erasing the projected valuation.
The moral of that particular story is that you must articulate the evidence of value. Why you should pursue an innovation (what value you will derive from pursuing it) is much more important than when to pursue it (the timing of projected cashflows).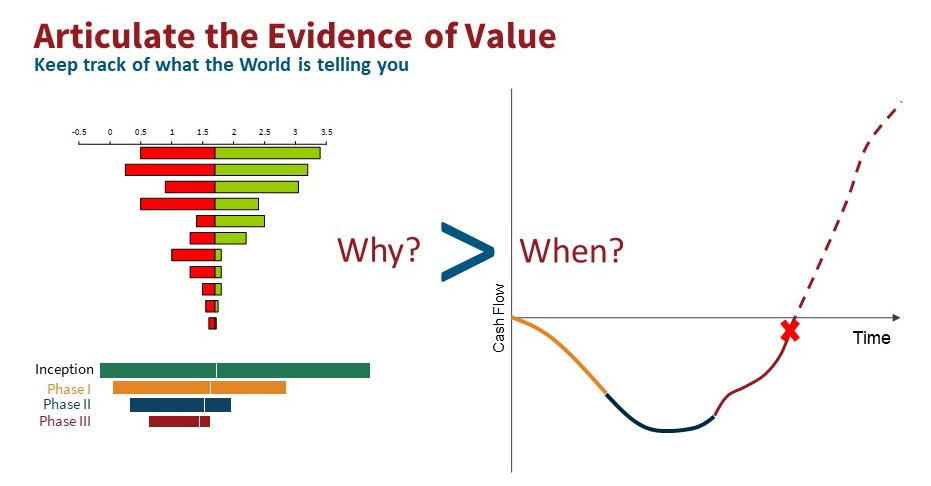 In a previous blog, I discussed scouting, surveying and laying track as the phases of proving out an innovation concept.
Scouting looks for unknown unknowns to see if there is a Problem-Solution Fit.
Surveying looks for the solution potential to see if there is a Product-Market Fit.
Laying Track is developing the early customer base to define operations.
Clearly, in our print on-demand business entry, we jumped ahead to laying track when we should have been taking the time to survey the market and determine the product-market fit.
There are two more stories about my time at HP, one about how our smartwatch business evolved and ended, and another about how we finally learned how to combine articulating the evidence of value with appreciating the value of evidence to create a successful innovation program, one that in three years took $12 million in investment and created $400 million in enterprise value. I discussed these stories in my FEI Digital Week webinar, and you can learn more via SmartOrg's ValuePoint monthly discussion of innovation portfolio management.