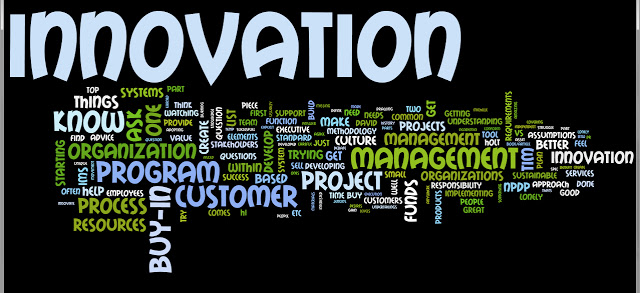 In advance of this year's BEI: Back End of Innovation conference, we wanted to start a larger dialog about the execution of innovation programs, and in a joint effort with conference chair Julie Anixter, Chief Innovation Officer, MAGA DESIGN GROUP and Executive Editor, INNOVATION EXCELLENCE we've been asking various members of the BEI: Back End of Innovation speaker and sponsor community to share their thoughts.
It's been an excellent series so far, you can catch up on it here, but the BEI: Back End of Innovation community is so much bigger than the speakers that happen to appear on the agenda. We wanted to tap into some of the knowledge that this larger community offers, so I put the question to our LinkedIn group. The word cloud above is representative of some of the first answers.
So far, two major themes seem to be threaded through the advice:
1. Look to your customer
One commenter wrote "Focus on the job customer is trying to get done and not the customer herself" and another added "Start by watching your customers try to do the things you are trying to help them accomplish. BTW, a survey is not watching and neither are interviews that ask them what they *might* do."
2. Planning/requirements/resources
Ranging from executive buy-in to company culture, many pieces of advice contributed to the discussion cautioned that planning, requirements gathering and a clear idea of resources are key to a successful innovation program or project.
One member wrote "Don't start an innovation project or program until the organization has first established an Innovation Management System (IMS)" another added "Get top management buy-in. Without it, an innovation program won't be taken seriously and, therefore, projects will not benefit the customer or the organization" and a third suggested "Keep the (value) end in mind: how will your innovation program make an impact (i.e. increase revenue, reduce costs, optimize services, etc.) Leverage this information to address all the great points already listed - getting executive buy-in, "energizing the troops", driving discussions about process, etc. "
Care to read more? Join our LinkedIn group here and add your thoughts: What one piece of advice would you give to someone just starting an innovation project or program?
Michelle LeBlanc is a Social Media Strategist at IIR USA with a
specialization in marketing. As part of the FEI team at, she tweets at @BEI_innovation and is the voice behind BEI:Back End of Innovation on Facebook and LinkedIn.