In September Biotech Week Boston welcomed over 5000 life sciences professionals for an incredible week across 12 co-located events. Delegates from more than 30 countries filled a bustling exhibit hall and overflowing rooms to discuss the latest research in bioprocessing, cell and gene therapies and microbiome therapeutics. Alongside Leaders In, here we highlight some of the key speakers, sessions, events and interviews that went on over the week in an interactive flip book. Simply click the image below to read it.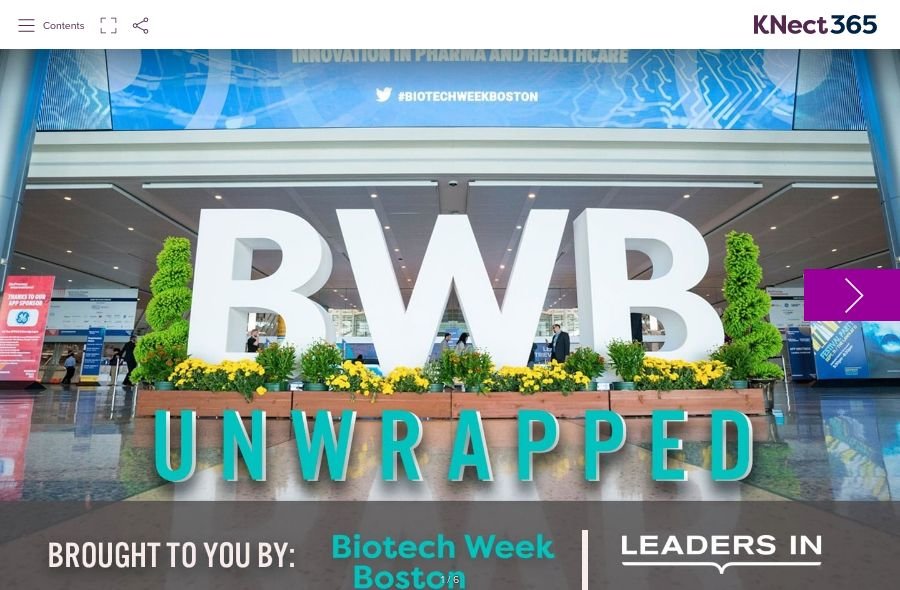 Highlights include:
Life Science Leaders on the Future of Diversity and Inclusion
"On a warm evening in Boston, over one hundred professionals in the life sciences industry got together to talk about diversity in the workforce – including diversity of gender, race, ethnicity, sexual orientation, disability and age - at An Evening of Diversity and Inclusion."
Shaping the Future of Cancer Care with Dr Saurabh Saha of Bristol-Myers Squibb
"I end on a plea. We've approached cancer research in a way that hasn't changed much over the last 30 years. (We) get the sample, look at its DNA, draw conclusions. We only look at tens of samples, (then) we publish in Science. We know that's not robust, its hypothesis generated. We now have the impetus of patients who want to participate in trials. (We have technologies like) genomics, proteomics, flow cytometry, radiomics, pathology and bioinformatics. We need to be looking at hundreds of samples, not tens of samples. Collaboration is the focus of our new research site in Cambridge, where we have multiple partnerships with industry, academia and research institutes. Collaboration is key."
Dr Saha, Senior Vice President of R&D and Global Head of Translational Medicine for all disease areas at Bristol-Myers Squibb
Impossible is Temporary: Dr Laurie Glimcher on the Future of Cancer Treatments
Dr Laurie Glimcher, President and CEO of the Dana Farber Cancer Institute, presented a keynote on 'Cancer in the 21st Century'. Dr Glimcher is considered a pioneer in immunotherapy and her inspiring talk offered an incredible history of the treatment, where we are now, and what she hopes will happen in the next ten to twenty years. She opened with Dana-Farber's mission: "We need to remember why we're here…it is because of the patients." When someone is told "You have cancer" Dana-Farber wants their first reaction not to be "fear and dread, but some hope and some promise."
Building a robust supply chain for CAR-T therapies
When producing CAR-T therapies, how are the logistics affected? David Kim, Director, Global Supply Chain and Craig Vermeyen, Sr. Manager, Packaging Engineering at Kite Pharma reflect on the company's experience in an exclusive interview with BWB TV.
Martin Akerman, Envisagenics Interview
Leaders In Editorial Content Manager Jordan Thorne sat down with Martin Akerman, Co-founder & CTO at Envisagenics, Inc. Another innovator solving unsolvable problems, Akerman's company Envisagenics is combining their technology, AI, and the use of RNA splicing to find real solutions to tough diseases.
Akerman discusses how he jumped from scientist to co-founding Envisagenics and the challenges that came with it. We explore topics around the value leaders should place on building diversity across their teams, and how a diverse team brings with it constant creativity.