As the end of the Brexit transition period draws near, FE fundsinfo summarise the confirmed positions of EU27 regulators and the impact they will have on the promotion and marketing of UK funds in mainland Europe. 
As the end of the transition period draws ever closer and the possibility of a negotiated trade deal with the EU27 moves further away, the reality of Brexit and the impact it will have on the promotion and marketing of UK funds in mainland Europe is really starting to bite.
Most EU27 regulators have finally clarified the position on:
How their existing investors in a UK fund will be treated after the 31st December 2020, and
What steps a UK fund will have to take if promotion is to continue after the 31st December 2020.
There are still a number of regulators that have yet to clarify either or both of the above points, but the table below provides details of the confirmed positions we have so far.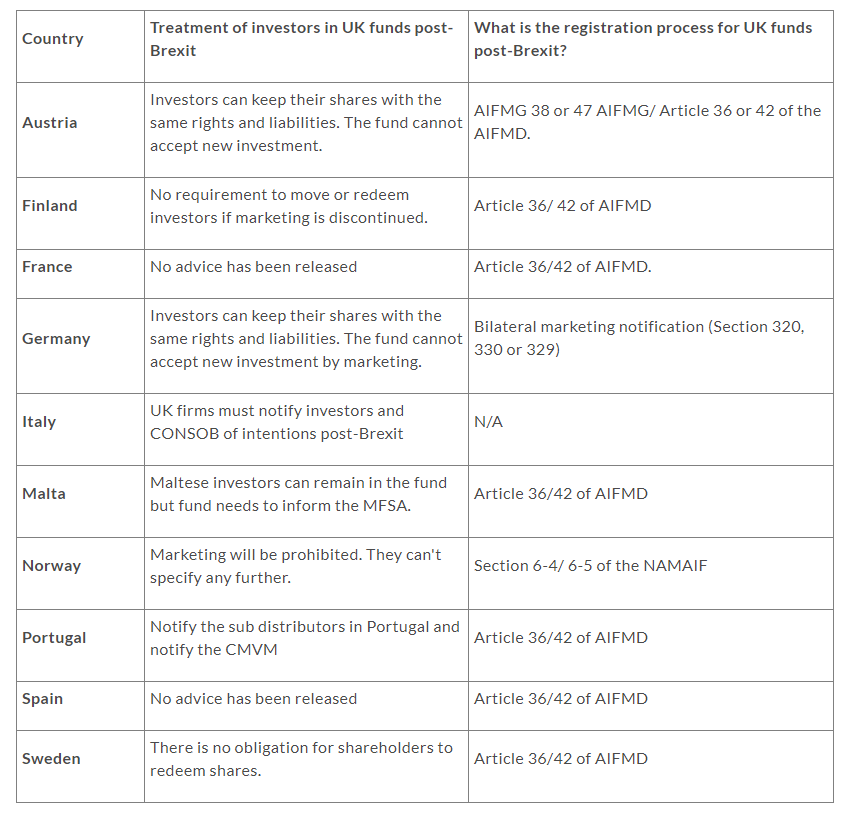 In addition to the regulatory position of the fund, UK asset managers also need to be aware that following 31st December 2020 they can no longer rely on permissions granted by the FCA to promote the fund in the EU27.
A number of EU27 regulators offer authorisation of UK firms but applications will have to be made to each individual regulator.  There are also offers being made to UK firms to use the MiFID permissions of EU27 based distributors and while this is technically possible, it is our opinion that this goes against the spirit of the MiFID Directive and it will be interesting how long this approach is tolerated by EU27 Regulators.
Contact us now for more information on how FE fundinfo's Global Funds Registration (GFR) service can help UK asset managers navigate the post-Brexit world of fund marketing in Europe.