FEI Europe 2016 presentation by Henrik Morgen, Senior Executive Officer, Technical University of Denmark
With 55 spinouts from the University last year, Henrik shared with us their experience, and the key learnings for us to take away on running Public-Private Innovation Partnerships (PPIs).
We were shown (in the image below) that there are many different ways information and knowledge can be shared amongst the parties, with PPI usually involving many of these knowledge-sharing methods.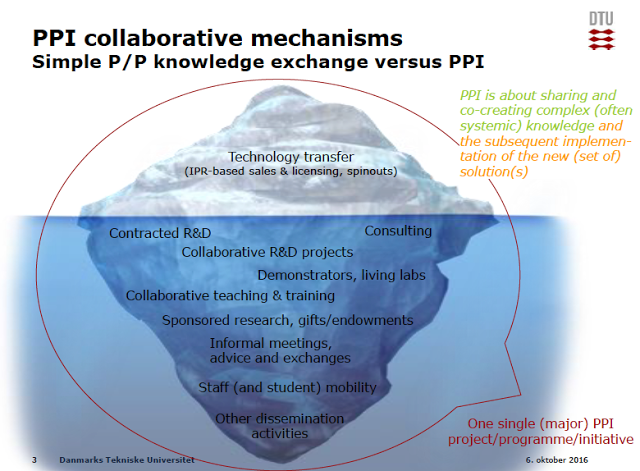 image from conference presentation
For success, it is important to know and understand your partners - what incentives, costs & benefits, and behaviours - are acceptable, or expected for each of them, and how expectations can be managed to result in success for all parties.
Do's & Don'ts include:
1 The challenge should be well-defined
2 The partners carefully chosen and the relationships maintained
3 Partner motives/ interests aligned (continually) and foreseeable conflicts must be reconcilable
4 Problem definition/ scoping and resolution together is a must!
5 Allow for decentralised actions and initiatives (empowered partners)
6 Swift feedback, and
7 Good, clear and transparent governance
ABOUT THE AUTHOR: Dr Claire McGowan is CEO for SODA Inc. (SODAinc.com), a Founder-focused incubator and Wintec company based in Hamilton, New Zealand. Claire has trained as a life scientist, worked in venture capital and investment banking, and built and sold several businesses, including IPMarket.com. @clairemcgowan @Soda_inc @IPMarket