What if..... all information, data, property rights, and monetary values could be transferred securely, cost-effectively and comprehensibly in decentralized structures? The answer could be that new business models and market opportunities are emerging. One of the driver behind the new ecosystems is Blockchain as an enabling technology. As a result, existing market participants lose their reason to exist. In particular, the numerous intermediaries who have been able to generate lucrative sources of income from their transaction-based business models over the years. If you want to survive, you should change now, because the value streams are currently being redefined. Blockchain technology allows radical innovations across all industries and innovative start-ups and companies are increasingly relying on a new central capability - the (re-)design of business ecosystems.
Decentralised ecosystems
For the new design paradigm, a traditional way of thinking about differentiation and business model design will no longer be adequate. The digital business ecosystems work differently: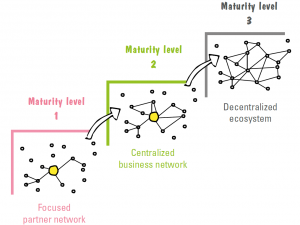 It is not centralistic customer-supplier networks in the classical sense (Matura level 1) that are oriented towards a company or serve a linear customer experience chain. Digital business ecosystems often have no centre and many players act equally in the network (Matura level 3). Companies that have already successfully designed business ecosystems generally focused very strongly on the user/customer in their considerations. In the implementation of these systems, the actors were loosely coupled and cooperation was co-created, while the value streams contained networked and decentralized system elements. The goal of such systems is for the actors in the business ecosystem to create value and this is done through a coordinated value system that is accepted by all. Together, cross-industry offers are defined. In the end, the maximum benefit for all actors should be realized, mostly supported by new technologies, such as Blockchain. The user/customer is also central here, benefiting from the simplicity and positive experience of the coordinated range of services. Well-known ecosystem design representatives from the last decade of business are companies like WeChat, Amazon or Apple.
In the case of the blockchain, it is not only a matter of mastering a new technology but also of rethinking our current market role, value streams, and existing business ecosystems. This is a complex system in which many elements have to be (re)designed.
Black Ocean Strategies
In the singular view of a business model in the past it was sufficient to think in the Blue Ocean model (Mauborgne & Kim). In this view, the creative and cross-border redefinition of market services was central, not least to set ourselves apart from the competition. The goal of a "Black Ocean" strategy, however, is to make market entry impossible for competitors. The existing rules are changed, new framework conditions created, and an "unfair advantage" built up and used accordingly.

An Eldorado for Business Ecosystem Design are projects in which Blockchain is used as enabler technology. Blockchain as a technology makes this way of thinking indispensable in the business context. The new distributed networks leverage existing business models and enable processes to revolutionize value streams and transactions. Well-known models of business model design quickly reach their limits here, as they mainly focus on the primary business of a company and only look at its direct customers and suppliers. A multidimensional view of the actors in the ecosystem with their value streams is often missing.
How to design a Business Ecosystem
The Business Ecosystem Design follows the Mindset from Design Thinking. Design Thinking has experienced a revival in the design of digital transformation in recent years. Many companies have set themselves the goal of aligning their principles with Design Thinking Mindset. This relies on a strong customer/user focus, an iterative approach and co-creation to finally test prototypes with the potential customer and to build the first Minimum Viable Products in a resource-saving manner.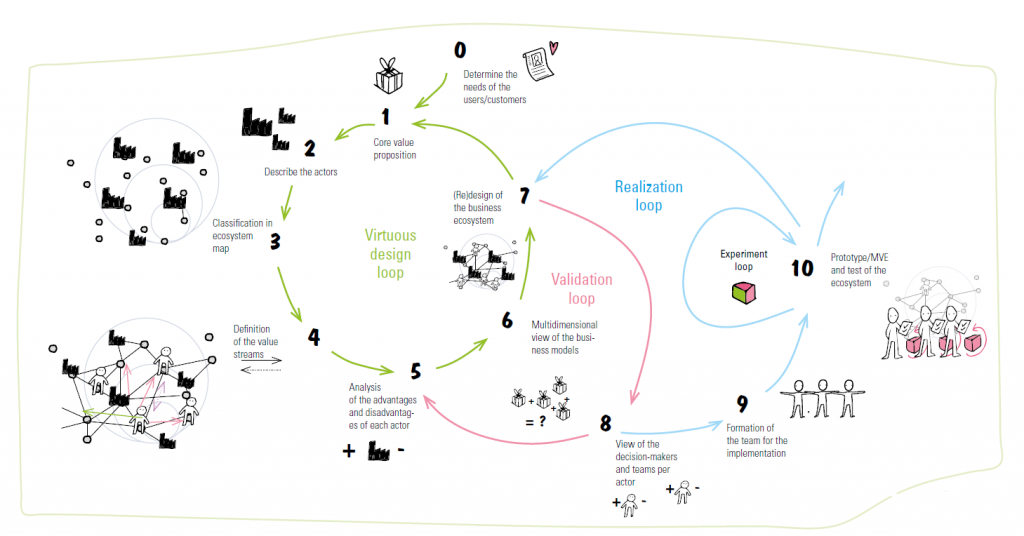 The main steps from Start-to-MVE (Minimum Viable Ecosystem):
As mentioned before, the central starting point in business ecosystem design is the customer/user with his needs, based on a defined problem statement. We use our well-known design thinking tools, such as customer experience chains, customer profiles, and personas. This is done before the design of the ecosystem. The design of the ecosystem usually takes place on two levels: customers/users and business, including the associated technologies and platforms. Our business ecosystem model has a total of 10 stages, which are broken down into a "virtuous design loop," a "validation loop," and a "realization loop."
Effective business ecosystems are designed in such a way that all actors benefit  from the value streams. 
How do we start in the virtuous design loop? 
1) Determine the core value proposition
2) Determine and describe the actors in the business ecosystem
3) Arrange the actors in the different areas of the ecosystem map
4) Define the value streams and connect the actors with the value streams
5) Create awareness of the advantages and disadvantages of each actor
6) Multidimensional view of the business models of all actors in the target business ecosystem
7) (Re)design of the business ecosystem
What happens in the validation loop?
8) Look at the decision-makers and potential team members in the business ecosystem
What happens in the realization loop?
9) Form a motivated team for the design of the new business ecosystem
10) Build the business ecosystem step by step with an MVE (Minimum Viable Ecosystem)
Summary of core capabilities in business ecosystem design
In principle, the term business ecosystem can be applied to all maturity levels. Thinking in business ecosystem of the third maturity stage have the following characteristics:
focused on the user
loosely coupled and designed for co-creation
consisting of networked and decentralized system elements
coordinated & accepted value systems of the actors
cross-industry offers
designed for maximum benefit for all participants and actors enabled by new key technologies (e.g. Data Analytics or Blockchain)
Step-by-step development of a Minimal Viable Ecosystem (MVE)
How to learn more about Design Thinking, Business Ecosystem Design and Minimum Viable Ecosystems (MVEs)?
There is not much literature in the market about business ecosystem design. And so, it comes as no surprise that "The Design Thinking Playbook" has been a bestseller for the last 12 months. It is an actionable guide to the future of business. By stepping back and questioning the current mindset, the faults of the status quo stand out in stark relief—and this guide gives you the tools and frameworks you need to kick off a digital transformation. An entire chapter focuses in the Playbook to the questions "Why business ecosystem design becomes the ultimate lever?
Available at Amazon: http://amzn.to/2Dv1FdJ
About the Author: Michael has had various roles in recent years. He served as Chief Innovation Officer and laid the foundation for several growth initiatives in industries undergoing digital transformation. In recent years, he has intensively worked on the design of business ecosystems, especially in connection with blockchain as enabling technology. He has supported various start-ups and international companies design new business ecosystems and implement disruptive innovations.
https://ch.linkedin.com/in/michael-lewrick
Speaking at FEI Europe - 19 JUNE, 2018
https://marketing.knect365.com/fei-europe/speakers/michael-lewrick
Topic: Business Ecosystem Design as a Key Capability in a Decentralized and Digitized World 
Playbook Description: The Design Thinking Playbook is a radical shift in perspective to transform your organization to become more innovative
The Design Thinking Playbook is an actionable guide to the future of business. By stepping back and questioning the current mindset, the faults of the status quo stand out in stark relief—and this guide gives you the tools and frameworks you need to kick off a digital transformation. Design Thinking is about approaching things differently with a strong user orientation and fast iterations with multidisciplinary teams to solve wicked problems. It is equally applicable to (re-)design products, services, processes, business models, and ecosystems. It inspires radical innovation as a matter of course, and ignites capabilities beyond mere potential. Unmatched as a source of competitive advantage, Design Thinking is the driving force behind those who will lead industries through transformations and evolutions.
This book describes how Design Thinking is applied across a variety of industries, enriched with other proven approaches as well as the necessary tools, and the knowledge to use them effectively. Packed with solutions for common challenges including digital transformation, this practical, highly visual discussion shows you how Design Thinking fits into agile methods within management, innovation, and startups.
Explore the digitized future using new design criteria to create real value for the user
Foster radical innovation through an inspiring framework for action
Gather the right people to build highly-motivated teams
Apply Design Thinking, Systems Thinking, Big Data Analytics, and Lean Start-up using new tools and a fresh new perspective
Create Minimum Viable Ecosystems (MVEs) for digital processes and services which becomes for example essential in building Blockchain applications
Practical frameworks, real-world solutions, and radical innovation wrapped in a whole new outlook give you the power to mindfully lead to new heights. From systems and operations to people, projects, culture, digitalization, and beyond, this invaluable mind shift paves the way for organizations—and individuals—to do great things. When you're ready to give your organization a big step forward, The Design Thinking Playbook is your practical guide to a more innovative future.