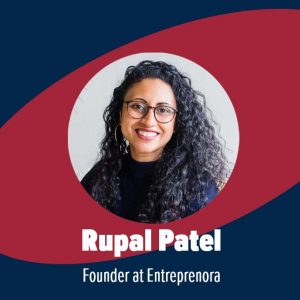 Rupal Patel is a former CIA officer turned CEO, business advisor, leadership consultant, and strategist who delivered the closing keynote at SuperReturn International 2021. In this interview, she shares some of the leadership and crisis-management skills she honed while operating in the world of espionage, that can help leaders in any industry. Plus, catch up on our last conversation with Rupal in Berlin.
What made you leave the CIA and what skills did you bring with you when you became a CEO?
I'm the type of person who doesn't like to get intellectually comfortable, so when I felt like I had reached the top of my game at the CIA, I started to look for my next challenge. The world of business and the private sector was a total unknown, so that's where I decided to test myself next. I had gotten used to throwing myself into the deep end - I served in jungles and war zones as a very new recruit at the CIA, for example - and figuring things out as I went along was something I had gotten used to. So that was the attitude I brought to my first business, a real estate investment and development group, of which I am still CEO. The CIA trained me to have an "everything is possible" attitude, to never waste time admiring a problem but to come up with solutions and creative workarounds instead, and that "McGuyver mentality" was essential to the success I've had, and to the success that many of the executives and leaders I work with create in their organizations.
Sticking with the topic of leadership for a bit, I've heard you talk elsewhere about "leading from wherever you are." Can you please explain what you mean by that?
I have some pretty radical views on leadership, and one of those is that it's everyone's job to lead, at least to some extent. Yes of course we need Directors and CEOs, but the organizations that truly thrive, are the ones where everyone takes ownership over executing on the "mission", and the people with the titles aren't afraid to let good ideas come from someone else. Fundamentally, leadership is about taking ownership and solving problems. If you can create a culture where everyone feels a sense of ownership and is given practical support to solve problems and come up with solutions, you've got a lot less to worry about, especially when times get tough.
You must have experienced some really tough times while working in the field at the CIA and in your own businesses. Do you have any advice for our community about leading during a crisis?
Leading during a crisis is about exactly that: leading. Not pretending that things are better than they are. Not burying our heads in the sand. But staring the crisis in the face and keeping our eyes open. So, being honest with your organization about what is happening, laying it all out there, and then coming up with solutions. Honesty, shared the right way, can be really galvanizing.
When I was serving in a war zone, every crisis was met with an attitude of "we're not giving up, so let's dust ourselves off and try something else." There has to be an experimental, trial-and-error approach. So in a crisis, face it. Share it with the relevant leaders/team members in your organization and create a sense of fight. And just try something.
You have to recognize that you can't optimize everything. Some things will be out of your control. So make the best decisions you can with the information you have and then own those decisions. Your decisions, especially during a crisis, have to be a "hell yes" or a "hell no", because anything else is just hell!
Those are great words to live by! Do you have any final thoughts for our community on leading during periods of uncertainty?
Yes, develop what I call "tactical ignorance". There is so much noise out there masked as information, but not all data is created equal. Be tactical about the information and intel you consume, and ignore the fantasy that "the right answer" is out there if you just keep looking for it. Especially during times of uncertainty, there will be lots of potentially right answers, and you have to know where to draw the line - where to be tactically ignorant - in your search. At the Agency, I sometimes had to sift through thousands of discrete pieces of intelligence to draft an intelligence report, and had to discard just as much information because the source was unreliable, the intel was incomplete, or it was simply irrelevant. The same applies in business.
There are reliable sources, and unreliable sources. Good quality data, and bad quality data. Relevant information and irrelevant information. But in our "more is always better" culture, we get lured into making decisions based on quantity not quality of information, on pursuing more due diligence for due diligence's sake. Developing the confidence to be tactically ignorant protects you from that trap. I'm not talking about cherry picking the information to serve a predetermined result, by the way, but knowing what is useful and relevant, ignoring all the rest, and then moving forward with what you've got.
---
Under the spotlight: Rupal Patel
Rupal Patel's high-octane career has taken her from jungles and war zones to corporate boardrooms and international stages. After a thrilling career at the CIA, she earned her MBA from London Business School and started her first award-winning business over ten years ago. Called a 'Power Woman' by Harper's Bazaar Magazine, Rupal is a sought-after international speaker and business consultant who has spoken in front of thousands. As a sitting CEO, author, advisor, coach and mentor, Rupal helps executives and decision-makers cut through the noise, remake the rules of success, and become unstoppable.
You can order her upcoming book From CIA to CEO: Unconventional Life Lessons for Thinking Bigger, Leading Better, and Being Bolder here, and if you'd like to work with Rupal, you can get in touch here.
To hear more insights from compelling industry leaders, join us at SuperReturn International 2022 >>