True innovaition is nothing more...and nothing less...than a creative combination.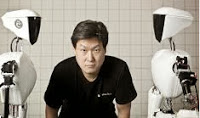 A strong view--which I share--is that innovation comes from a conscious and subconscious thought process of searching and combining.
Einstein and Jobs thought the same. As Jobs said about innovation, "Innovation is just connecting things together." Einstein called innovation, "combinatorial play."  Or as noted Columbia Business School professor William Duggan, a leading thinker on strategic intuition as the key to innovation asserts: "To think outside of the box, look into other boxes."
Over cocktails at Back End of Innovation, I had the privilege to speak to BEI Keynoter, Dr. Dennis Hong. Hong is the Associate Professor and the Founding Director of RoMeLa (Robotics &
Mechanisms Laboratory) of the Mechanical Engineering Department at
Virginia Tech.
A great raconteur and presenter, we were talking about his presentation about the development of Robots from game playing, soccer kicking use cases to life saving, nuclear meltdown correcting critical thinking machines.
Without purpose or intent, our conversation tilted towards a precise use case validation of combinatorial thinking. While describing the walking capabilities of his THOR (Tactical Operations Hazardous Robot) , he relayed the source of his inspiration to create a tripod robot, essentially a three legged walking robot. A tripedal gait. Watch it here.
His inspiration for innovation was seeded while sitting in a park observing how a mother was braiding the hair of her daughter. A process where three strands of hair are woven together, combining to form the braid.  He was fascinated with the mother's care and her process, sketching it out, not thinking how he would ever use it. But nonetheless sketched it. [I wonder else what this big brained guy, one of the leading robotics experts in the world, has in his notebook!]
After considering how robots could be more stable than bi-pedal walking, he had his "ah ha"moment. That's when the innovation spark occured, combining his recollection of the braiding of the young girl's hair and the technical challenge of robotics.
Amazing what you can discover and validate with great company over a glass of wine and good conversation at BEI.  Worth the admission ticket. 
Paul Ruppert is a senior executive in the mobile industry having been responsible
for new product
innovation, development and launch; revenue driving and
globilizing markets within startups, fast moving large service providers
and Fortune 50 companies. He's driven over $300 million in revenues
over the last decade, and is a co-author of a patent enabling SMS to go
around the corner or across the globe. He blogs at www.globalpointview.com and tweets @mobilepointview .  He is one of the "Official Bloggers" for the Back End of Innovation conference.