On 7 Nov 2018, CrewConnect Global celebrated its 20th anniversary by acknowledging and recognising the talents of individuals and outstanding companies.
The judges (Esben Poulsson, International Chamber of Shipping; Kuba Szymanski, InterManager; Andreas Nordseth, Danish Maritime Authority; Jacqueline Smith, International Transport Workers' Federation; Natalie Shaw, International Chamber of Shipping; Stephen Miller, Mission to Seafarers; and Maneesh Varma, The Nautical Institute) were looking for excellence, innovation, and role models in an exponentially changing industry.
The Innovation and Technology Award goes to OSM Maritime Group.
The Excellence in Training Award goes to Magsaysay.
The Welfare and Corporate Social Responsibility Award goes to Philippine Transmarine Carriers.
The Safety at Sea Award goes to APL.
The Seafarer of the Year is Master Maksym Cherniy, MSC.
The Young Person of the Year is Nina Sue M. Da Silva, OSM.
And the Lifetime Achievement Award goes to Ambassador Carlos Salinas.
Blue Philippines Partner Recognitions
Additionally, the POEA and Government of the Philippines recognised the following companies for their continuing contribution to the overall growth and success of the manning industry:
Maersk-Filipinas Crewing Inc
Magsaysay Maritime Corporation
OSM Maritime Services Inc
Philippine Transmarine Carriers Inc
RCCL Crew Management Inc
Southfield Agencies Inc
The certificates were handed over by Deputy Administrator Villamor Ventura S. Plan of the Philippine Overseas Employment Administration (POEA).
NOTE: This is a recognition by the POEA and Government of the Philippines of companies that excel at doing business in the Philippines, not chosen by our panel of judges.
About the winners
OSM Maritime Group
The OSM Maritime Group has showcased incredible incentive by developing and implementing a comprehensive digital strategy for seafarers featuring products like myOSM and iLearn. With myOSM, seafarers can check and update their basic information and contact details, view pay slips, tax reports, etc. iLearn is a platform which supports the effective delivery and measurement of training programmes for seafarers and customers.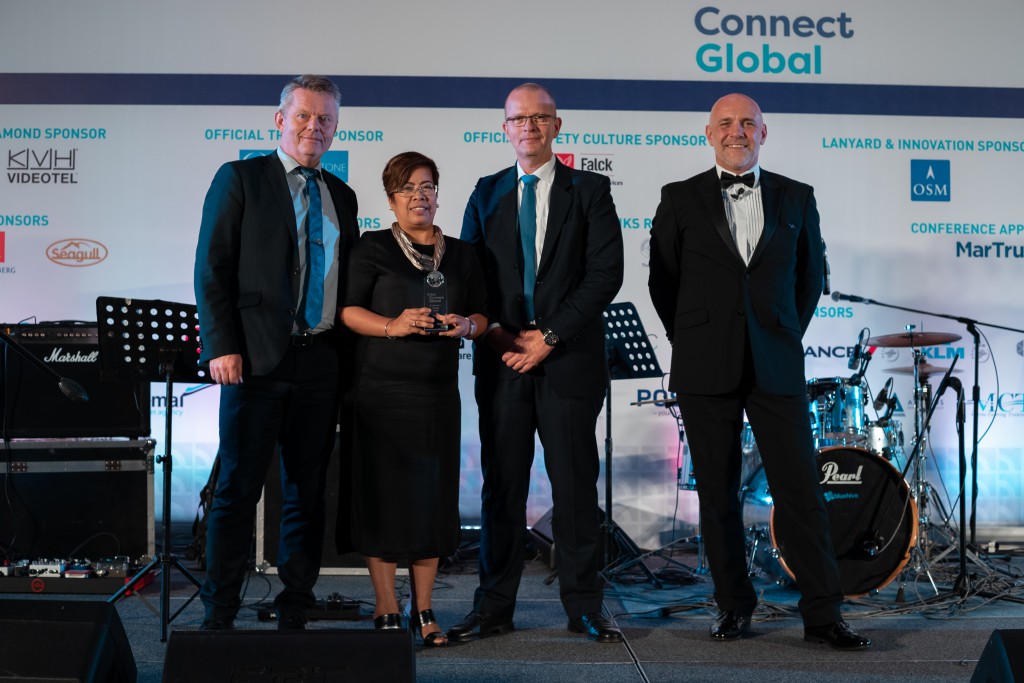 The award was presented by Andreas Nordseth, Director General, Danish Maritime Authority.
Magsaysay
For over 30 years, Magsaysay People Resources Corporation's (MPRC) programs and services have focused on the globalised labour of the maritime industry which allows seafarers and other global workers to re-skill, take on quality jobs, and enhance their employability in shipping and other maritime service sectors as trade becomes more globally integrated and complex. In 2017-2018, MPRC invested USD $53 million in programs, facilities, and technology for the use of its people to serve the global maritime industry. These investments have contributed to improved profitability with an increased number of manned ships and seafarer employment. The company's training arms include Magsaysay Learning Resources, Inc. (MLRI), Magsaysay Institute of Shipping  (MIS), MOL Magsaysay Maritime Academy (MMMA) in the Philippines and Magsaysay Center for Hospitality and Culinary Arts  (MIHCA) in the Philippines and Indonesia.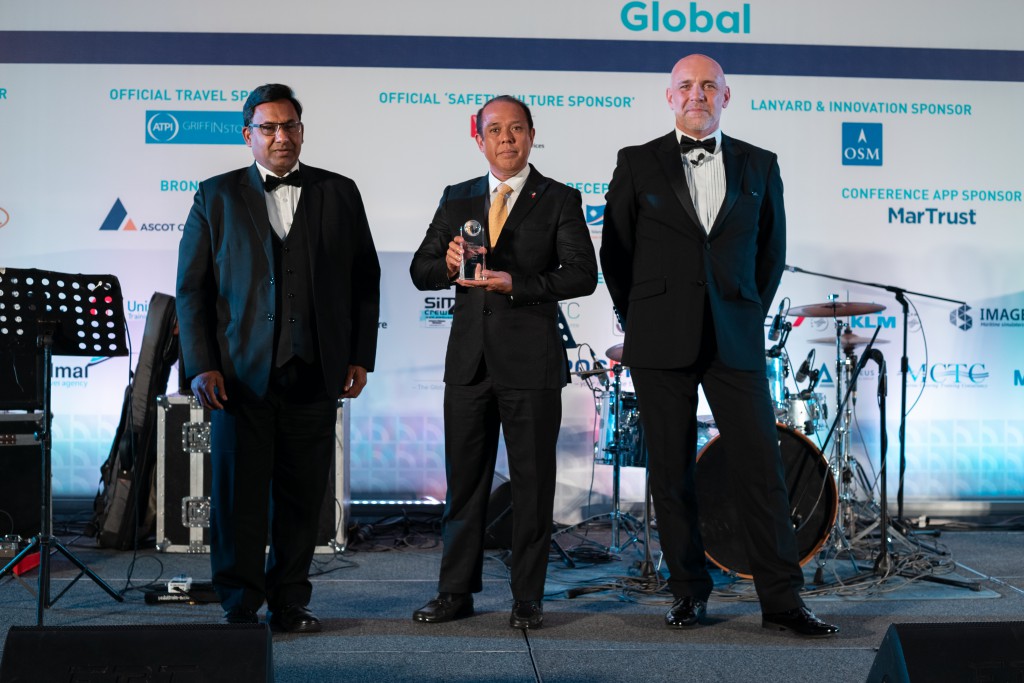 The award was presented by Capt. Maneesh Varma, Training and Accreditation Development Manager, The Nautical Institute.
Philippine Transmarine Carriers
Answering the call to protect the marine environment and to contribute to ensuring and sustaining clean oceans, PTC has passionately taken a stand on the alarming severity of global plastic pollution. Through the launch of an aggressive campaign entitled, Plastic-Free Starts With Me, and in keeping with Life Below Water, one of the 17 Sustainable Development Goals of the United Nations, PTC has sparked ecological consciousness and behaviour change among the communities it serves. The Philippines has been reported to be the world's 3rd largest source of plastic waste in the ocean. This has driven PTC to address this disturbing reality by embarking on the broad-based adoption of the Ecobrick.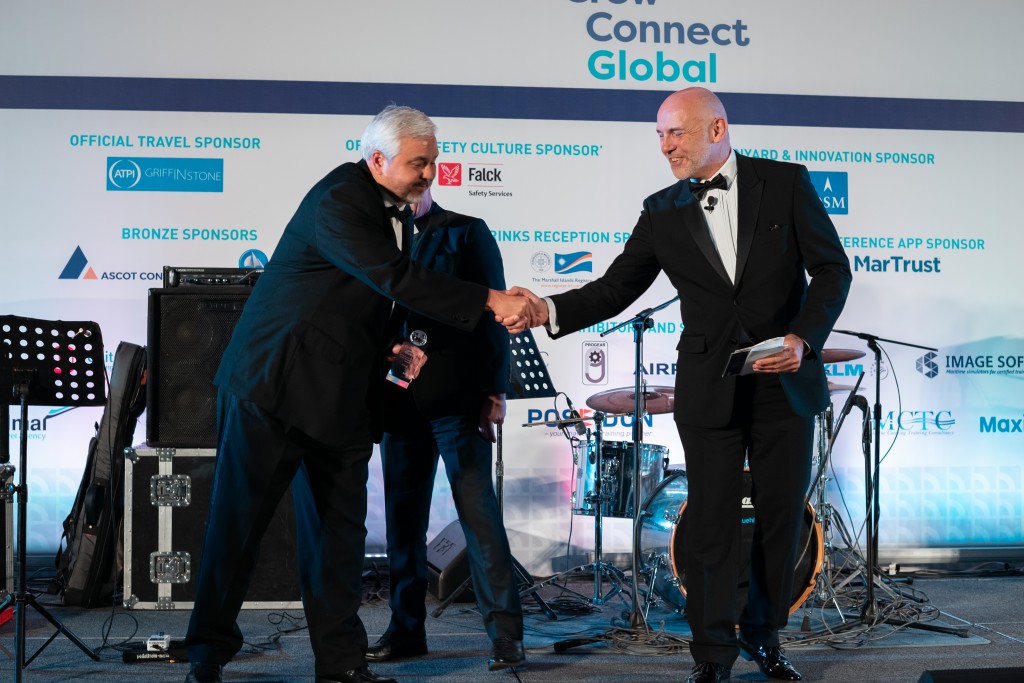 The award was presented by Stephen Miller, Regional Director for South-East Asia and Senior Chaplain of MTS in Hong Kong, Mission to Seafarers.
APL
In 2017, a total of 2,574 safety drills were conducted onboard 39 APL-operated vessels. Simulated vessel collisions, fire and pollution incidents, personnel overboard cases, search-and-rescue operations, and ship-shore drills were conducted among others.
APL also renders assistance to distressed third-party victims at sea through AMVER (Automated Mutual-assistance Vessel Rescue) Maritime Safety Programme to respond to emergencies at sea.
APL deploys the latest navigation assistance tools and technologies to track and analyses wide-ranging nautical, meteorological and geographic information from ashore in real-time, 24/7. These live analytics of the vessels empowered the onshore experts to assess, anticipate and mitigate any navigation-related risks to its vessel operations.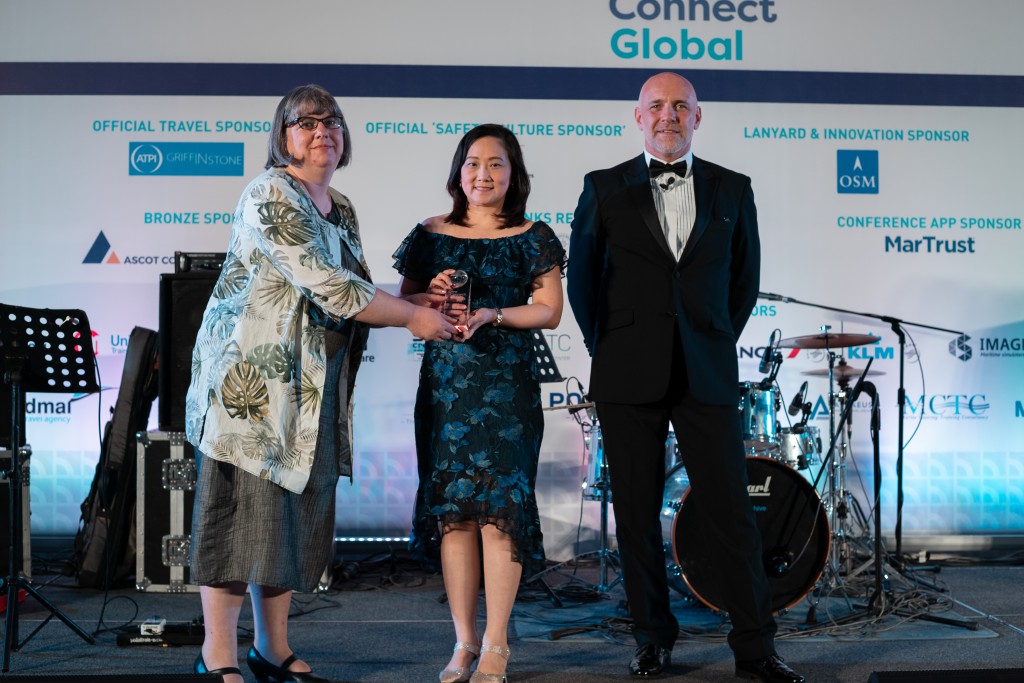 The award was presented by Natalie Shaw, Director of Employment Affairs, International Chamber of Shipping (ICS).
Master Maksym Cherniy, MSC
During the pirates' attack on MSC Maria in Nigeria, Master Maksym Cherniy exhibited courage, dedication and commitment. He strictly followed all procedures and instructions in the stressful situation being in touch with the head office, demonstrating fortitude and encouraging other crew members.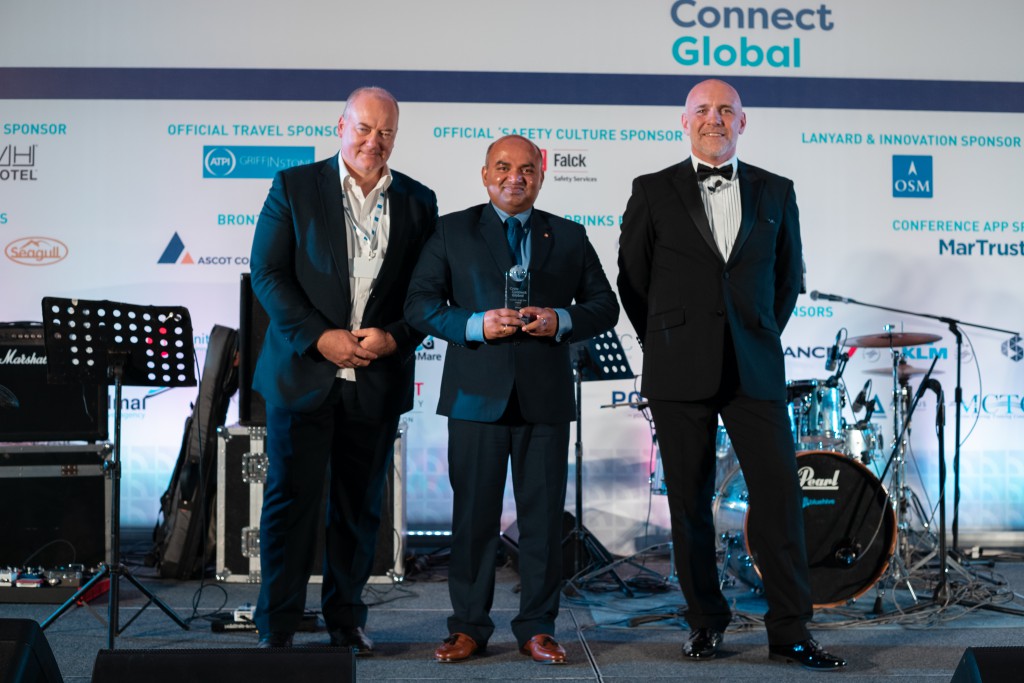 The award was presented by Capt. Kuba Szymanski, Secretary General of InterManager, and accepted by Prabhat Jha, Group Managing Director of MSC Shipmanagement, on behalf of Master Cherniy.
Nina Sue M Da Silva, OSM
Nina's main responsibility is to oversee the day-to-day operation of OSM Cebu and to recruit qualified crew according to the requirements of the customers, in accordance with legal requirements and company policies.
She is also tasked to:
Source for qualified applicants and conduct initial screening and final interviews according to qualifications and requirements of the customers
Proactively provide updates regarding recruitment activities and status of requirements
Provide relevant information regarding the recruitment industry practices, trends, and other benchmarking data
Build a strong pool of candidates for future needs
Responsible for ensuring that all systems and documentation related to the application of crew are complete and valid prior to endorsement.
Help in the conduct of OSM Seafarer's Family Club activities in Cebu.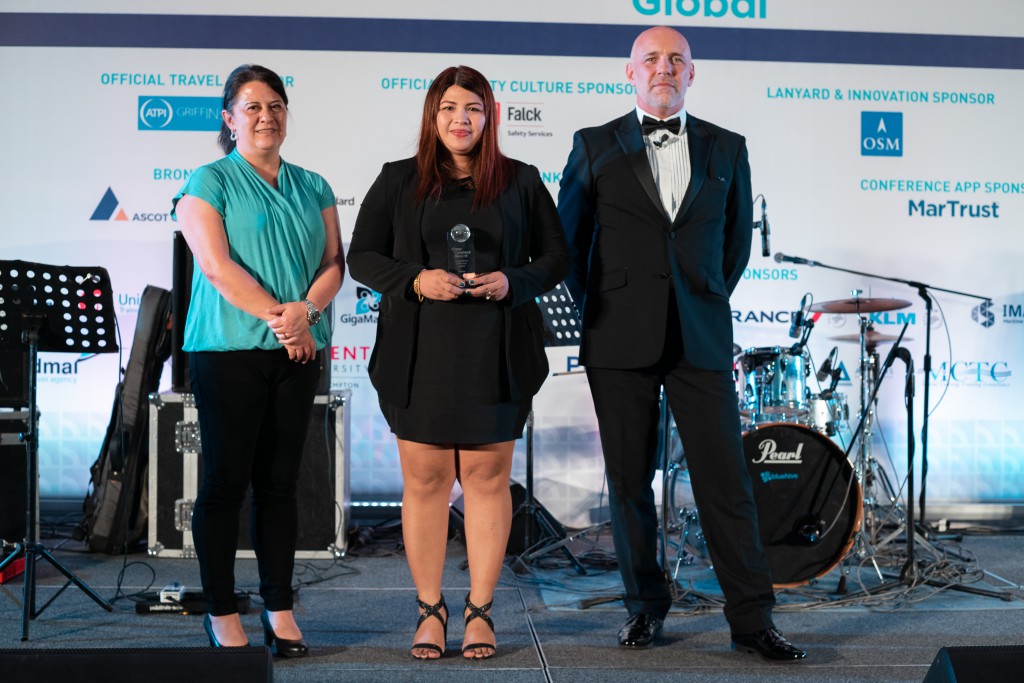 The award was presented by Jacqueline Smith, Maritime Coordinator at the International Transport Workers' Federation.
Ambassador Carlos Salinas
Having dedicated over 50 years to a career in shipping, Ambassador Carlos Salinas is one of the most distinguished leaders in the Philippine maritime industry. His contributions to the development of the Philippines as a primary provider of maritime professionals began in February 1979, when he established Philippine Transmarine Carriers (PTC). Over 40 years, PTC has evolved into a leading Philippine-based global crew management company operating one of the largest diversified maritime services platforms.
Throughout his career, Ambassador Salinas engaged in numerous government trade missions, seafarer organisations, academic institutions and sectoral associations to help shape the industry both domestically and internationally. Emphasising the importance of quality education and training, Ambassador Salinas took every opportunity to promote the capability of the Filipino seafarer.
For his dedicated service, Ambassador Salinas has been widely recognised. He is a recipient of the TIMONEL Award from the Philippine Maritime Industry Authority, the highest award granted to a private individual for services rendered to the government. In 1992, his Majesty King Harald V of Norway, conferred upon him, the Royal Order of Merit with Rank of Commander, for his outstanding contribution to Philippine-Norwegian maritime relations.
In 2009, he was honoured by Lloyd's Ship Manager of London with a Lifetime Achievement and Leadership Excellence Award for an illustrious career in shipping. The following year, he was recognised with the Special Lifetime Achievement and Leadership Award by the Filipino Shipowners Association which he has served in a leadership capacity since 1987; and was awarded the Presidential Medal of Merit by the Philippine government through President Gloria Macapagal-Arroyo, a civilian honour for his achievements in enhancing the Philippine maritime sector.
Appointed in 2010 as Ambassador to the Kingdom of Spain, Ambassador Salinas continued to plant the Philippine flag on the map. At the end of his term, he was honoured with the Order of Sikatuna, Grand Cross Gold Distinction Award by President Aquino, for his exceptional service in fortifying Philippine-Spanish relations. He was likewise conferred with the Royal Award – the Grand Cross of Isabel the Catholic, by His Excellency, King Felipe V of Spain.
Ambassador Salinas received the Seatrade Lifetime Achievement Award in 2017. Through his recent appointment as IMO Maritime Ambassador, he continues to passionately promote the shipping industry and in particular, opportunities for Filipino seafarers, whom he considers the heart and soul of shipping, and through whose efforts the maritime industry moves the world.
In his speech, Ambassador Salinas thanked his wife and children who have shaped his life and made his career better, while vowing to continue the work he has started.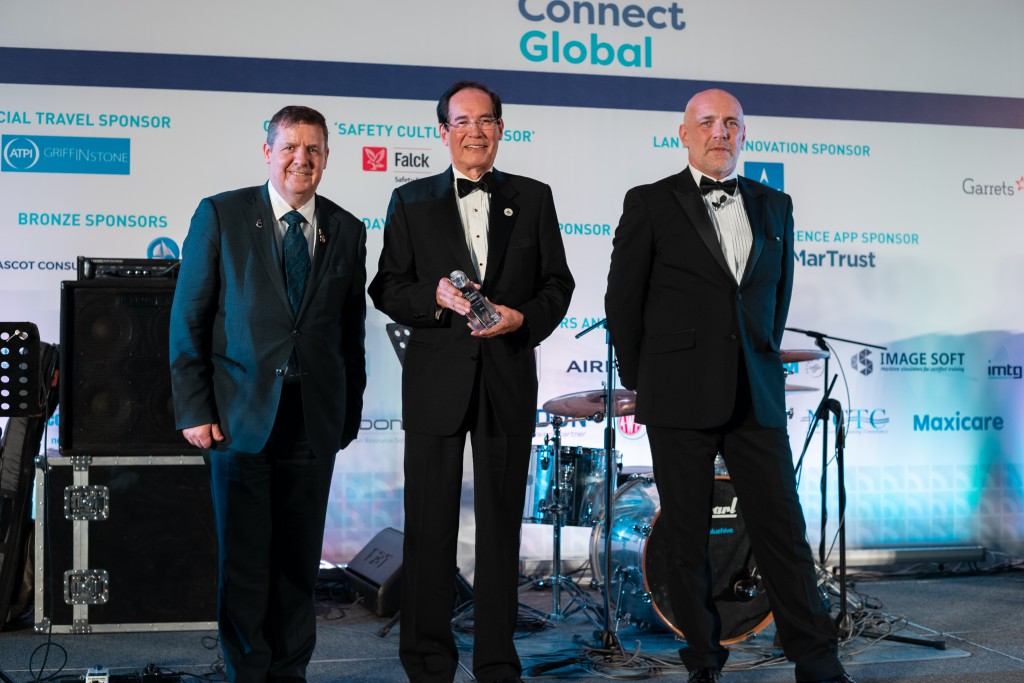 The award was presented by Guy Platten, Secretary General of the International Chamber of Shipping, ICS.
About CrewConnect Global: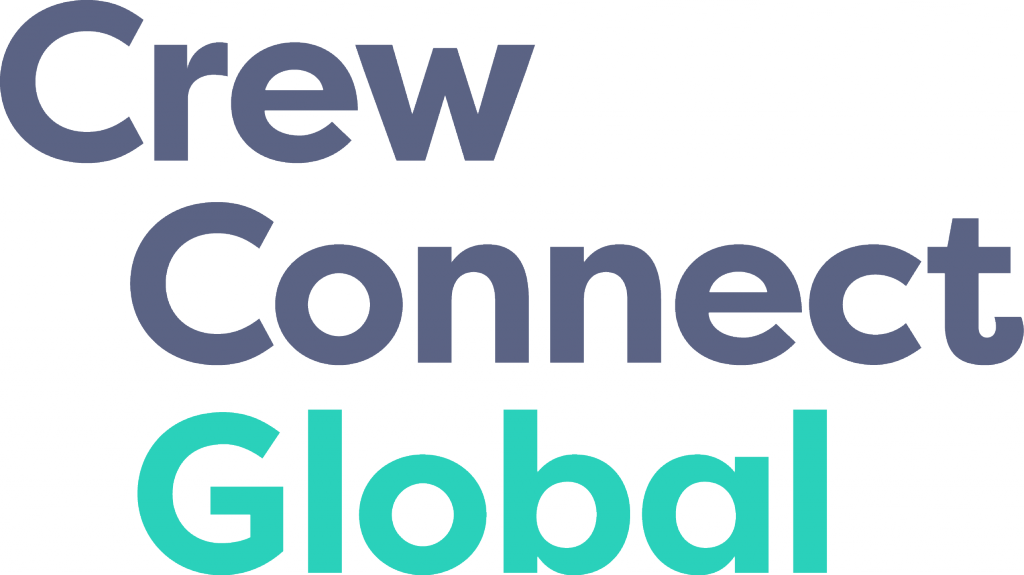 CrewConnect Global is celebrating 20 years. 20 years of bringing together people and ideas dedicated to improving the lives, education and wellbeing of seafarers around the world. For its 20th anniversary, CrewConnect Global wanted to celebrate the people who have transformed the maritime industry. The judging panel was looking for excellence, innovation and role models in maritime who are able to keep pace with the industry's rapid transformation.
The judges are:
Esben Poulsson, Chairman, International Chamber of Shipping
Esben Poulsson is Chairman of The International Chamber of Shipping, the London based Association representing approximately 80% of the world fleet. The Organization, founded in 1921, consists of 35 National Shipping Association members and 11 Associate Members.
Mr. Poulsson is Executive Chairman of ENESEL PTE. LTD., a Singapore based commercial management and ship owning entity, managing 14 large modern container vessels all under the Singapore Flag. Mr Poulsson has worked in the maritime industry for over 40 years and has held a variety of senior management positions in Hong Kong, London, Copenhagen and Singapore.
Aside from his Chairmanship of Enesel Pte. Ltd., he is a Non-Executive Director of X-Press Feeders Ltd., of Hafnia Tankers Pte. Ltd. and of Avra International Pte. Ltd. He is also non-executive Chairman of Cambiaso Risso Asia Pte. Ltd. and serves as Senior Advisor to Straits Tankers Pte. Ltd. He also serves on the Board of the Maritime & Port Authority of Singapore (MPA).
He was elected President of the Singapore Shipping Association in June 2015 and is an Advisory Panel Member of the Singapore Maritime Foundation. In November 2016, he was appointed to the Baltic Exchange Advisory Council following the acquisition of the Baltic Exchange by the Singapore Stock Exchange.
Kuba Szymanski, Secretary General, InterManager
Captain Kuba Szymanski started his sea carrier in 1985. He graduated from the Maritime University of Szczecin with Master Degree and started his deck officer carrier with then Dorchester Maritime Limited Isle of Man. He sailed gas/chemical/product tankers, reaching his first command as a Master in 1999.
In order to support his managerial skills attended Lloyds Academy and obtained Certificate in Ship Superintendence and then studied MBA at the International Business School Isle of Man and JMU Liverpool.
In his roles ashore, he worked as Marine Superintendent, HSEQ Manager, Fleet Manager, General Manager and most recently – over last year Secretary General.
Capt. Szymanski has been lecturing Ship Management at International Business School Isle of man for last 14 years.
Through the works of InterManager, he participated in many industry wide projects such as Shipping KPIs, SOS and most recently Martha Project.
In July 2018, he has been awarded Honorary Doctorate by Solent Southampton University for his contribution to the Maritime Industry.
Kuba is an active yacht racer who sailed his First 40.7 competitively around Europe, mostly double handed.
Andreas Nordseth, Director General, Danish Maritime Authority
Andreas Nordseth is Director General of the Danish Maritime Authority (DMA); a position he has held since 2009. The DMA is a Government agency under the Ministry of Industry, Business and Financial Affairs in Denmark.
Today Andreas Nordseth also holds numerous nominations and board positions. He is Chairman of the Administrative Board at the European Maritime Safety Agency (EMSA) and Chairman of the Consultative Shipping Group. Andreas Nordseth is Governor at the World Maritime University (IMO) and a Board Member of the Danish Maritime Fund and the Advisory Board for Executive MBA in Shipping & Logistics at Copenhagen Business School.
Jacqueline Smith, Maritime Coordinator, International Transport Workers' Federation
Jacqueline Smith joined the ITF in October 2014 as the Maritime Coordinator. Prior to joining the ITF Jacqueline had the honour of leading the Norwegian Seafarers' Union (NSU) and its 11,000 members for almost 8 years.
Jacqueline became an active member of the NSU in 1992 as a shop steward, securing a collective bargaining agreement for concessionaries, a first for the union. In 1998 she was elected as a delegate to congress, then as a deputy on the national board, immediately followed by being invited to be the assistant director dealing with cruise ships in Miami, USA. In 2002, she was asked to stand as elected secretary, so returned to Oslo, Norway. Jacqueline was then elected NSU president in 2006 and re-elected in 2010.
Natalie Shaw, Director Employment Affairs, International Chamber of Shipping
Natalie has been the Director of Employment Affairs for the International Shipping Federation and International Chamber of Shipping, since March 2003.In her role she represents the industry on all Employment Affairs matters and coordinates industry positions at the ILO, IMO, EC, WHO and other UM bodies as appropriate. She was actively involved in the development and implementation of the Maritime Labour Convention 2006 and discussions on the ILO minimum wage, Crew Claims and Abandonment, Revision of STCW and concerns related to Piracy to name but a few areas. Natalie is also a trustee for Seafarers UK.
Natalie is also actively involved with The International Seafarers Welfare Assistance Network (ISWAN) of which she was a Board member for a number of years for both its previous operations namely ISAN and ICSW. She is currently part of their Piracy subgroup formed since the integration of MPHRP under the charity. She is also Secretary of the Shipowner Group at the International Labour Organisation. She is also a voting member of the Board of Deputies of British Jews and gets actively involved in interfaith and diversity projects.
Natalie was previously a Trustee of Sailors Society and Chair of the Welfare and Chaplaincy Committee. Her greatest personal pride was in leading their efforts in developing a project to provide housing and accommodation in the Philippines post typhoon Haiyaan which resulted in housing, medical centres, and assistance to schools hit by the event. This activity was driven by seeing the realities after the Indian Tsunami 10 years ago and a lack of coordination to expedite assistance to seafarers' families at the time.
Natalie holds a Bachelor of Science Degree in Management Sciences from Manchester Business School and a Masters Degree in European Human Resource Management from the University of East London and is a Fellow of both the Chartered Institute of Personnel and Development and the Royal Society of Arts.
Outside interests include the theatre, dining out and entertaining guests at home.
Stephen Miller, Regional Director for South-East Asia and Senior Chaplain of MTS in Hong Kong, Mission to Seafarers
Ordained in the Diocese of Worcester, England he served in parishes in Dudley, West Midlands (1991-94), and Hurst Hill near Wolverhampton, (1994-99).
In 1999 Stephen joined The Mission to Seafarers as Port Chaplain in Rotterdam, the largest port in Europe. In January 2002, Stephen was posted to Dubai, where he took charge of maritime ministry in the United Arab Emirates.
In 2005 Stephen was awarded the Thomas Gray Silver Medal by The Marine Society for services to seafarers during the 2nd Gulf War.
In 2006 Stephen began a project to build the World's first Seafarers Support Boat, M/V Flying Angel, which was launched in February 2007 and named by HRH Prince Charles in Dubai.
Educationally Stephen has wide interests, having studied Genetics, Theology and Maritime Law.
Stephen's interests outside work are keeping fit, and sailing. He has successfully climbed Mount Kilimanjaro and is an RYA qualified Oceanmaster.
In May 2015 Stephen was made Canon of The Nation Cathedral of the Philippines.
Maneesh Varma, Training and Accreditation Development Manager, The Nautical Institute
With 25 years' experience at sea, Captain Maneesh Varma worked through the ranks to Captain for Maersk. After coming ashore, he gained qualifications in Shipping, Trade and Finance (MSc from Cass Business School), PGCE and PG Diploma in Marine Law. He also worked in Commercial Operations for Holbud Ship Management, London and SPL Shipping, New Delhi.
Captain Varma has held numerous roles in the maritime training sector, working as senior lecturer in simulation at Warsash Maritime Academy, Lowestoft College and Liverpool John Moores University, where he assessed navigational risks for Dublin Port's new RoRo Jetty. Currently working as Training and Accreditation Development Officer for The Nautical Institute, he works to enhance and manage The Nautical Institute's CPD services.