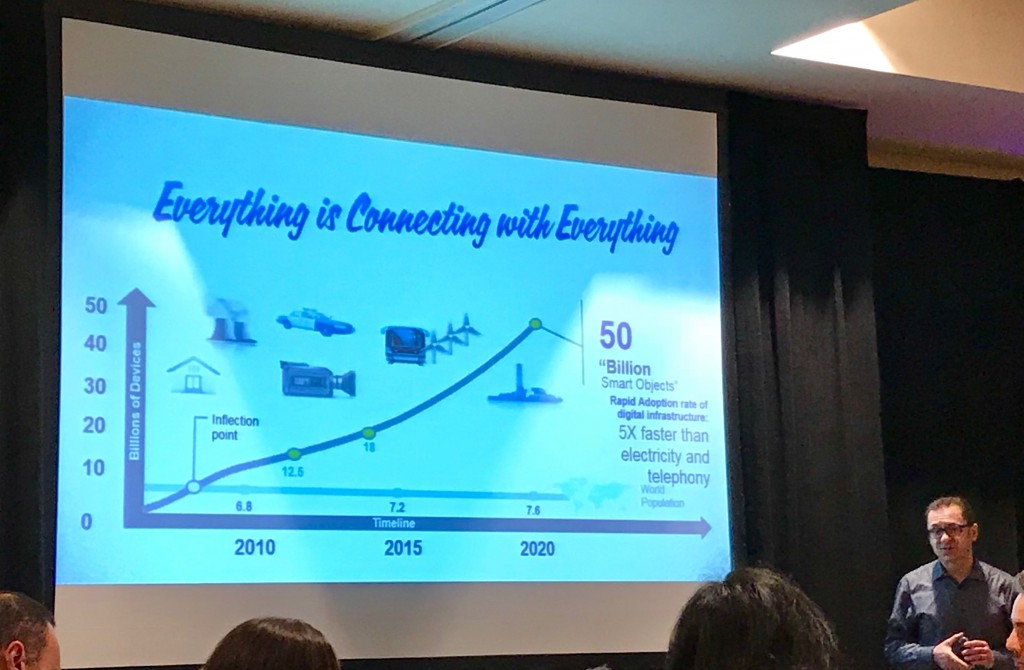 By: Marga Acevedo, AceMarga Consulting LLC
Are you ready to lead the pace in the digital era of gerneration IoT? by Maciej Kranz
As the VP, Strategic Innovation at Cisco Systems Maciej is doing his share to lead it. IoT is driving innovation, is transforming the business models and it is taking off in the B2B space.
With the advent of IoT the best in class solution is often based in open architecture systems and hence the concept of co-innovation.
His examples included, success stories within different environments, combining cross-functional teams, designing "hyper local" solutions and collaborating with your vendors.
Ultimately it is about people, change management and focusing on the problems you need to fix. Approaching innovation comprehensively and embracing the co-economy.
Collaborating & partnership the center piece to building out the Back End, by Chuck Whitlock
Chuck is the SVP Strat Growth Initiatives, Energy Solutions at Duke Energy, and he is convinced that when it comes to solving complex problems from designing smart cities to electric vehicles, partnership and collaboration within the ecosystems is the way forward.
His team, strives to find the time to experience the process before pursuing the latest "shiny object". "There is nothing like practice"- he indicates. They have picked up some of the agile methodology and adopted some of their partners framework tools.
"Incumbency can be a killer for innovation" bringing partners changes your perspective and adds new voices to the team.
Design + Innovation Panel: Julie Anixter, Patrick Meyer and Brian Rice
A very creative and multi-faceted panel that brought a change of pace to close the day. They made a compelling case for the inclusion of designers from the get go in the innovation process.
Here are some of their points:
90% of what our brain takes is visual
Images have the power to stimulate our imagination
People and video to help you win
Draw the problem to quickly identify the phenomena
Having sketches help teams to collaborate
It is about the experience, the power of the shared experiences
Designers help to communicate emotions
Get some budget for designers in your innovation projects!
About the Author: Marga is a technology leader with an international background and a passion for innovation.  During the last 20 years she has grown her expertise in research and business development, focused in industrial and manufacturing applications of polymer and materials science, bringing technologies to commercialization in multiple markets.  She holds a PhD, is the inventor of several patents and a published author in technical, trade and conference proceedings.