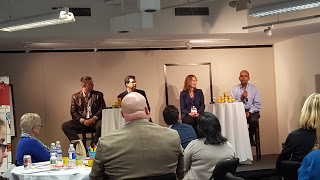 The afternoon part of the
Corporate Intrapreneur Summit
(organized by the
Institute for International
Research
and
Culturevate
) that is
taking place at the Digital Sandbox in Lower Manhattan in NYC started with the
topic that could be called 'an elephant in the room': culture. A panel of four
human capital experts discussed the role of the corporate culture plays in instilling
and preserving the spirit of entrepreneurship in large organizations.
Everyone on the panel and in the audience has agreed that
the cultural aspect of intrapreneurship must be tackled very early in the
intrapreneurship program development. The emphasis was made on the fact that
despite some obvious similarities between large corporations, they are all
different, and these differences must be considered.
Special attention was given to the role played by HR. It was
acknowledged that over the years, HR has created kind of negative reputation
that makes its involvement in innovation activities more challenging. Time and
effort are needed to overcome this obstacle.
There was another nice interactive session run by Innovation
Loft. A few groups of attendees were brought together to 'create' an intrapreneurship
program for a fictitious company. As a member of one of these groups, I can
attest that it was extremely productive and a lot of fun too.
About the Author: Eugene Ivanov is helping organizations
of different sizes design and implement internal and external innovation
programs. He's an expert in selecting and defining R&D problems that can be
successfully solved by crowdsourcing. He writes blog Innovation Observer and
tweets @eugeneivanov101.