78% of cell and gene therapy professionals say they believe the COVID-19 pandemic has benefited investment in the sector, according to our recent industry report.
Based on a global survey conducted in February this year, the report uncovers insights from professionals in the cell and gene therapy field across biotech and pharmaceutical firms and consultancies.
Explore the full COVID-19 Response in Cell & Gene Therapy Manufacturing Report 2021 here.
Partnering and licensing in cell and gene therapies
Just over half of the respondents say that their companies' partnering and licensing activities had increased since the COVID-19 pandemic began. Of those remaining, most say that their companies' collaborative activities had stayed about the same as before.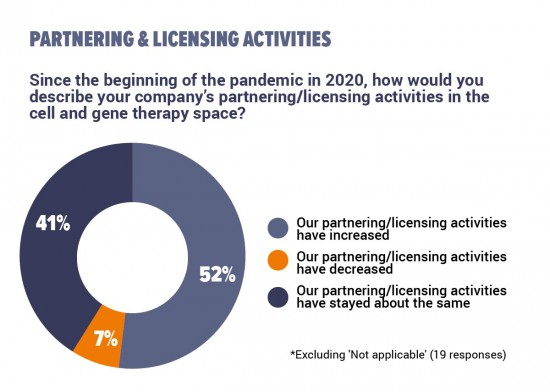 In additional comments, many respondents who said that their company's partnering activities had increased add that they had done so to strengthen their supply chains. A lot of respondents report that meetings had become more frequent after switching to virtual formats, whether resulting in new partnerships, or purely nurturing current ones. However, some respondents describe their collaboration as having been slowed down or completely disrupted.
Financial side effects of the pandemic
Respondents of the survey were also asked what they thought would be the biggest financial side effect of the pandemic on the industry. The most common positive suggestions from respondents are increased financial interest in the sector from investors and the public, cost-savings in infrastructure and travel due to remote working and further investment in strengthening supply chains to avoid future delays.
Yet other respondents are more cynical, predicting global economic struggles and a lack of interest in non-COVID-19-related programs.
Responses include:
"Loss of revenue from non-COVID-related products"
"Higher investments - both public and private - in the cell therapy industry"
"Losses in global trade and economy"
"More investment of supplier resilience and, additional mfg capacity at CDMOs for clinical studies that have been delayed"
"More transactional sales and less relationship building due to remote meetings"
Explore the full COVID-19 Response in Cell & Gene Therapy Manufacturing Report 2021 here.