I was recently listening to this NPR Talk of The Nation Episode, which explores research showing that small changes in an office environment can improve creativity and productivity - by lengthening the tables in a lunch room or moving the coffee station employees were exposed to new people (and ideas) that they wouldn't generally encounter. Listen to the episode here:
Look at any list of innovative companies or round up of "best places to work" and you may see some recurring themes when it comes to office spaces. This piece from Inc. summarizes the benefit of more open spaces:

"...studies show people are actually more productive and innovative when in motion. New office designs encourage that by swapping dingy concrete service stairwells for ornate, centralized open stairwells, and installing signage that encourages people to use the stairs instead of the elevator."
And a quick scroll through this feature on The Cool Hunter of cool offices shows recurring themes of open space, room for mobility and innovative growth, including the following: "Red Bull Netherlands's director Jan Smilde was quoted as saying that the company wanted a location with an entrepreneurial spirit where they would have the freedom to develop innovative ideas and events."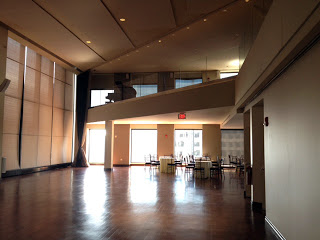 The open and airy State Room space in Boston,
awaiting its transformation for BEI.
Being exposed to new people, situations and ideas is perhaps my favorite part of
attending conferences for this very reason. Not only is it a great catalyst for hitting on that next big idea you're looking for, but it is also a space for the personal growth of one's creativity and skills. Conference chair Julie Anixter talks about this as well in her recent blog post on Innovation Excellence, "7 Ways Conferences Cause You to Innovate."
She writes:
"Good conferences are petri dishes for relationships that inspire and nurture your work, your imagination and your willingness to push beyond your comfort zone. They are fuel. And they are fun. Like a good TV Drama, they're highly curated experiences ' with a narrative arc all their own, serving up people who want to share their own personal bests via speaking, curation or attending. At best they're a Corporate Burning Man that produces a very different kind of environment then your daily workplaces As such they make the perfect place to submerge your team or CEO for a day or two, because they won't leave without having their molecules rearranged."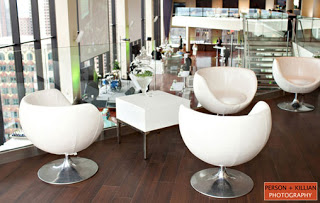 When it comes to BEI specifically, we wanted to take this opportunity for inspiration to the next level by holding the conference in a different, more creative space. Boston's State Room is a great fit for our unique learning formats. Whether you're connecting with our innovation partners in the loft space (pictured left) or getting inspired by our world-class keynotes, we think this space will be the perfect innovation 'petri dish.' Looking forward to seeing you there!
Michelle LeBlanc is a Social Media Strategist at IIR USA with a
specialization in marketing and a background in publishing and advertising. As part of the FEI team at, she tweets at @BEI_innovation and is the voice behind BEI:Back End of Innovation on Facebook and LinkedIn.