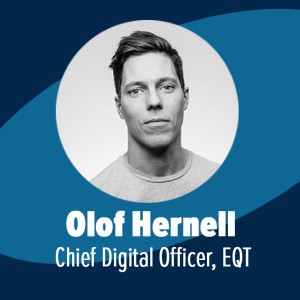 As we head further into the era for digital transformation, what strategies should companies employ and how can they be implemented into the investment process, as well as within your own team? We spoke to Olof Hernell, Chief Digital Officer at EQT, speaker at SuperInvestor 2019 on digital value creation, to find out more. 
Your role is quite unique within private equity – can you tell us a bit about what it involves?
I wouldn't say it's unique. There are a lot of private equity firms building out their digital capabilities. If we look at the industry as a whole, we live in a digital age and PE isn't immune to that. We know that digitally mature companies tend to outperform their competitors, hence PE firms must think about it and invest. For these reasons, I'd say it's quite rare that private equity firms don't have some kind of digital initiative.
However, we were perhaps one of the first to embark on this journey when we set out five years ago and have reached the execution stage sooner. We might have had a head-start in bringing digital capabilities throughout our portfolio.
What my role includes is to take ownership of digital maturity and technology across the whole of EQT. That's from internal operations, including IT operations, to our internal R&D teams where we develop our own technology, to how we leverage technology throughout the deal process - from sourcing, due diligence and portfolio development to exit.
How has EQT's digital strategy and use of technology developed over the last five years?
If we think about where we started, it was an ambition to work with portfolio companies, and at the end of the day, that's still what matters. It's about how well we develop our portfolio companies and how that delivers value to the LPs.
But when I first started and saw what was under the hood, together with the then CEO, Thomas von Koch, we agreed that to be a trusted adviser to our portfolio companies that we needed to 'practice what we preach' and focus first on EQT's own digital transformation. We had to be happy when we looked at ourselves in the mirror and only then could we go out to our portfolio companies and say: "Right guys, now you go!" Leading by example has been central to our philosophy. So we ended up starting on the IT side, ripping out our old technology and ways of working, to build a foundation for automation and scale.
We are now in the third phase of our transformation; which is focused on three areas:
Running a more efficient operation and really challenging the way private equity industry is transforming its back- and middle-office;
Using machine learning and big data to solve important investment problems;
Digital business development, working with deal teams on investments and then with portfolio companies to drive their digital transformations and maturity.
Our core philosophy over the last five years hasn't changed; we believe digital maturity comes with a competitive advantage and this applies to all companies in all industries - and that includes us.
How do you approach integrating digital into your deal teams?
Our investment teams look at a tremendous number of deals every year; we've built a digital assessment framework to assess companies when it comes to their digital maturity to support those efforts. This can be used across all industries and sizes of company.
Every deal we do at EQT today has some kind of digital assessment - in some cases it's part of the basic investment thesis, at the other end of the spectrum it's more of a downside protection component like understanding if they have good enough security.
In many cases digital is an active part of the growth strategy. As for how we can actually drive this in our portfolio companies, my team is getting more and more involved in this aspect; in some cases we are an integrated part of the deal team. To that end, our digital team reflects EQT's broader "local-with-locals" approach, and we've built local digital development teams in New York, Munich and Stockholm.
Could you tell us a bit about how EQT is using technology for deal-sourcing and to support its investment strategy?
The shining example there is in EQT Ventures which led to us building our AI platform, Motherbrain, in 2016. The question we asked, was how could we track and assess all the millions of start-ups around the globe every day? As a human endeavour it's an impossible undertaking, so it requires a data-driven approach. So that was the first moon-shot problem we wanted to solve.
Our first milestone was to source enough relevant deals to the venture team to make it worthwhile working on to a mature stage. A second milestone was to have a first investment – which we've also done. In fact, we have five investments that were fully sourced algorithmically and they're doing well. The next milestone is to have a first exit.
Mortherbrain isn't just a Ventures project, it's an EQT project. While it's quite unlikely that large buyout deals will be triggered by algorithmic signals, as there are so many other factors involved, the research components are there and it has a role to play in the sourcing of add-on acquisitions to a portfolio company.
How do you work with your portfolio companies to accelerate their growth?
We approach this by looking at what really matters to our customers - i.e. our LPs - and that's EV, right? And what are the components that drive that? EBITDA and multiple expansion.
So what are the areas where we can drive either EBITDA or multiple expansion?
The product/service - how does the product/service work? Can that be improved?
Business model - this might be taking it from a licenced and maintenance model, to a software as a service recurring revenue model
Marketing and sales - leveraging ways to create, catch and convert demand to run a better, more effective sales process
Operations - leveraging digital to run a tighter, faster, more precise and efficient ship.
In evaluating these four areas, we look at:
Talent - what's the growth mindset in the organisation? The use of partnerships, measurability and tracking of customer journeys
Technology - ranging from basic IT systems to automation to security and support
Data & analytics - capturing, analysing and making decisions based on data.
Once the approach is decided, we decide the best way to achieve the desired result, whether it's:
Organic transformation - we have what we need in the portfolio company and can drive that from within;
Transformative acquisitions - so we can buy some asset that brings new technology or people that can get it done; or
Incubation - where we challenge the existing business model via a separate entity from the outside.
How do you see the use of technology within private equity changing in the next 3 or 5 years?
The ability to leverage digital to super fuel investment teams I think is a given. There's obviously huge upside in this but I also want to highlight the scalability of operations.
The private equity industry is facing more and more regulatory pressure and greater LP demands when it comes to reporting and insights on what we're doing. From my perspective as a technologist, the industry hasn't focused enough on this in the last 20 years. I think that's a brutal debt that firms will struggle with in the next five years.
As I mentioned, we've spent a lot of our internal technology efforts fixing the back-end operations. We can't scale with excel spreadsheets and email. It's easy to overlook this aspect – it's perhaps not as glamorous as the portfolio opportunities and deal-making, but it's hugely important.
What's next for EQT on its digital journey?
Over time, I see a successful PE firm having deal teams that are more heterogenous in their composition. Deal teams won't just be bankers, but also comprise technologists and sustainability experts for example.
My personal vision is that EQT will be half PE, half technology. We will probably have a higher level of technology in the firm, including technology that we will develop and run. So we'll become a developer of technology as well as a buyer of technology.
---
 Under the spotlight: Olof Hernell
Olof Hernell heads the digital team at EQT which besides working with digital business development of the EQT portfolio companies also looks after internal IT & Engineering teams. Coming from a Google background, he was Head of Android and Chrome HW for Google Nordics until June 2015 and prior to that Head of Enterprise, Google Sweden. Before Google, Olof started Avalon Cloud Solutions- the first Nordic cloud tech consultant. Throughout his career, Olof has been on the barricades evangelizing mobility, cloud technology and consumerization of IT.