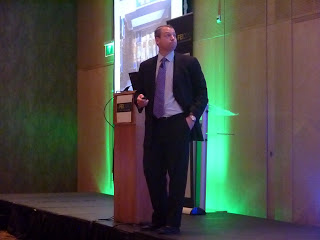 By Connie Harryman, Applied Concepts Creativity
Guest Blogger
Organizer IIR
LIVE Front End of Innovation Europe 2010
Topic: Delivering a Superior and More Profitable Experience
Speaker:
Ian Forrest: Chief Marketing & Strategy Officer, GE MONEY
This is a story about the GE Money Bank in the Czech Republic and about delivering a superior and more profitable customer experience through customer-centric innovation.
Key facts include:
' 4th largest bank by branches
' 1 M+ customers
' 4000 employees
Their bank branches are located on back streets. They have been around for 10 years. They are mainly a consumer finance company then they became a full service retail bank. Previously branches were built based on cost and were quite spartan in decor. They were designed for the staff to use. The customer was not considered. The branch is a critical aspect of the banking relationship. Currently they have 218banks.
GE has a strong history of innovation and it is important to think about innovation structurally and consider the investment, time, and resources.
Ian Forrest outlines some basic principles:
1. Start outside in, not inside out.
GE Money Bank looked at analogous experiences. They used an 'outside- in' approach. Ask yourself, 'How much of time does your marketing team devote outside of your industry'? They explored comparable experiences aligned with their brand fit.
2. Examines tails not averages for insight.
To 'Examine the Tails' they found that impactful innovation will not originate through understanding of averages. Their big insights include an emphasis on making things easy, clear and more rewarding. They identified two types of user journeys and four behavioral segments. They recognized that financial literacy is an opportunity for growth. They focused on customers who aspire to personal consultation. They remove the 'Q' stress, and deliver a proper send-off with a handshake.
3. Design for behaviors and use.
They design for behaviors and focus on the behavioral segments that use the branch the most and they design for how the customer wants to use the branch.
4. Creates value through understanding key moments.
They invest in moments that matter most by aligning and placing an emphasis with customer needs and expectations. They have low-tech innovations around moments that matter to manage expectations and 'tune' branch traffic. The branches have mapped traffic flows. The goal is to enable families to focus on their consultation versus distractions.
5. Test to fail and learn faster.
They have a process for rapid testing and learning. When they make mistakes, they want to do it at 'no' cost fast. The idea is to fail fast, fail cheap. They have a learning library.
One of their 'little' mistakes involved the type of people they hire. New models require new processes and sometimes different people to execute. Their new branch was staffed with a branch manager and associates. They tried to use this existing staff but it did not work. They had to hire completely new staff with completely different skill sets. They hire from hospitality, travel agencies, and hotels. This has improved their business and brand performance.
6. Customer centric innovation starts with the customer or the customer's specific problem.
Now their branches are brightly lighted, with a beautiful d'cor, and clean. Customers encounter a warm greeting, and have privacy for consultations in a circular meeting place that emphasizes 'we.' This creates an environment to allow the banker to work closely with the client.
GE Money has been able to drive customer satisfaction from 6th place in 2008 to the #1 ranking in customer satisfaction for banking in the Czech Republic in 2009. They drive operational performance to create the branch of the future. They see encouraging trends in performance.
GE Money targets customers who have money versus customers who need money. The breakeven point is 9 months.
6 things summarized:
1.) Start from the outside in and explore analogous experiences for a broader frame of reference.
2.) Examine the tails'more insight can be gained from the advocates and the disgusted.
3.) Design for behavior and usage'avoiding traditional segmentation factors.
4.) Focus on moments that matter most through prioritizing.
5.) Test to fail and learn faster.
6.) Measure, and modify constantly.
What are we innovating and why are two questions we do not ask often enough.
Here's a short clip from his presentation below: