Neal Capecci, Manulife Investment Management argues below that although there are rising trade tensions in the world, investors still find Asian bonds alluring.
Is the future Asian? It's a question that investors found themselves grappling with in recent weeks as the unexpected escalation in the U.S.-China trade war appeared to dim prospects of the so-called Asian century. But as perspective makes a welcome return and frayed nerves have calmed, I believe most will agree that the trade dispute is unlikely to materially alter the continent's longer-term outlook, which remains positive.
Asia is still a hot destination
From a fixed-income perspective, the argument for Asia as an investment destination continues to be persuasive. The continent is home to diverse economies, each at different stages of development, each offering investors a different opportunity set in different currencies.
Crucially, the region's economic fundamentals remain strong and inflation levels continue to be manageable; currently, the yields on offer are also markedly higher in Asia than in developed markets—a fact that has perhaps taken on more significance now that central banks are once again cutting rates. Most importantly, the dawn of the Asian century has salient implications for the region's fixed-income market.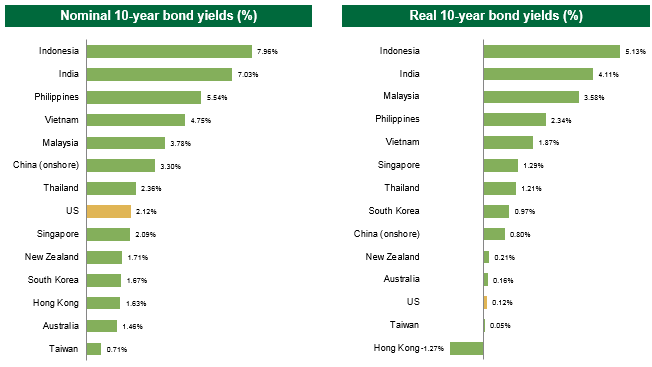 Asia's emergence as a global economic force—in which China has played an important role—is mirrored by the growth of the Asian fixed-income market. Chinese companies are today among the biggest users of the debt market, and the excitement surrounding the inclusion of local Chinese bonds in key global indexes attests to the coming of age of the country's fixed-income market.
I believe this serves as a prelude of what's to come as we venture further into the Asian century. India and Indonesia are already waiting in the wings, preparing to flex their economic muscles. When they do, it'll mark the next stage of transformation in Asia's fixed-income landscape.
A distinct opportunity set: the long and short of it
There's no denying that the Asian fixed-income market has come a long way in the last 20 years. A commitment to reform on the part of the policymakers and a largely healthy macroeconomic backdrop have contributed much to the market's growth. Notably, the market has deepened significantly as governments and companies look to debt as a source of funding.
Liquidity has also improved considerably during the period, and its ownership base has broadened to include domestic institutional investors, which enhances market stability. These developments have made it possible for managers running alternative strategies to tap into a different opportunity set without tipping the risk-reward equilibrium.
Given the rapid pace of growth, it isn't unusual for these markets to experience periodic dislocations. Rather than being alarming, these occasions can give rise to interesting opportunities that allow active managers to capture returns using nontraditional tools such as derivatives and options through long and short positions. In my view, the diverse, heterogeneous nature of the region's economies makes the asset class particularly suited for the absolute return framework.
In my view, the asset class resides in what we call a sweet spot in the fixed-income market, where it's deep and liquid enough for nontraditional strategies to be employed efficiently, yet also robust enough to not tip the risk-reward equation.
Asia: even more opportunity for investment in the future?
A recent survey conducted by Greenwich Associates showed that more than 90% of institutional investors are inclined to either maintain or increase their asset allocation to Asian fixed income in the next 12 months. Notably, of the respondents who have yet to allocate to the asset class, a quarter indicated that they'll be initiating their investments during that period.
Predicting the future can be difficult at the best of times, much less when geopolitics take center stage, but that shouldn't detract from Asia's economic achievements or diminish its prospects as an investment destination.
As far as I can see, the appeal of the Asian fixed-income market remains undimmed and its fast-growing nature can lead to interesting opportunities from both a long-only and absolute return perspective. In other words, while I believe that the ongoing trade conflict could put a pause on proceedings, the future, in my view, remains unmistakably Asian.
In  an exclusive interview, watch Neal speak his expertise on absolute return investing below, live from FundForum International 2019.