Recently, I found myself in the audience of a keynote panel
discussion at the annual ePharma event in New York City. There were very
successful people in the pharmaceutical industry asking questions like 'how do
we incorporate digital into our company's DNA'?
One panel member vented by
saying that Pharma companies had to stop investing in apps that merely promoted
and sold their own products. A few weeks later, I found myself presenting a business case to colleague of mine. A very busy woman, with many things on her plate, she began
multitasking by intermittently texting with important contacts throughout our
discussion. As I was making the point that 'digital disrupts everything' I
couldn't resist but to point out that it was disrupting the very conversation
we were having. She was almost aghast at herself for her behavior and put her
phone down immediately.
Though this may bother a lot of us I didn't really mind it at all. It kind of validates the case I've made. And I think its fair to say that this behavior is much more
acceptable today than it would have been a decade ago.
We are all beginning to
understand it more and accept it more. We are all in some way beginning to adjust to living disrupted lives. This is a new reality that is not going
to go away.
Digital has taken us over. We know this.
But we don't yet know
the long term implications of its pervasiveness. There are many exciting things
about instantaneous global connection to one another. On Facebook I find myself
frequently connecting with my cousins in Argentina or the nanny who helped my
mom when I was a baby now living in Iceland.
I've had conversations with
digital artists from almost every continent on the globe sitting in my living
room. I'm reacquainting myself with friends from decades ago who I would have
never suspected to see again if it wasn't for 'digital.'
Twenty years ago the smart phone didn't exist. Today there are 5
billion. I saw a recent study that said there were
significantly
more images uploaded to the internet in 2011 than all
of the photographs created by analog photography EVER.
Ben Blumenfeld who spoke
at FUSE 2011 (then the creative lead at Facebook), shared a story about how
Facebook wanted to create a language translation platform. Originally they
projected enormous costs in creating the platform that would take up huge
amounts of time and eat up resources. They then turned it over to their network
and had a the first iteration created in days at very little cost.
So how do we adjust what we're
doing within this digital takeover?
What is the shift in the psychology that will
best help us handle the digital invasion? I couldn't possibly begin to answer
this on a global scale but from a design perspective, as a director of the
creation of websites and a communicator of business strategy, I'll sum it up by
saying we need to move from hierarchies to hubs.
If you haven't wrapped your
head around this yet the fundamental shift in mindset is from the traditional 'hierarchy-type'
thinking to 'network-type' thinking.
This is such a great opportunity for design thinkers as it
is conceptual and abstract. There is much work to be done in business
everywhere. Ideas now need to be constantly drawn out and refined. It also
presents opportunity for designers as 'pollinators' in business. In the past we
found ourselves floating from team to team within a corporate structure getting
an idea of 'the big picture' so that we could communicate it visually in the
branding and design.
Today we can actually map out this journey in order to
help the business understand its own network-based structure. This creates a
great gateway from servicing our clients to partnering with them.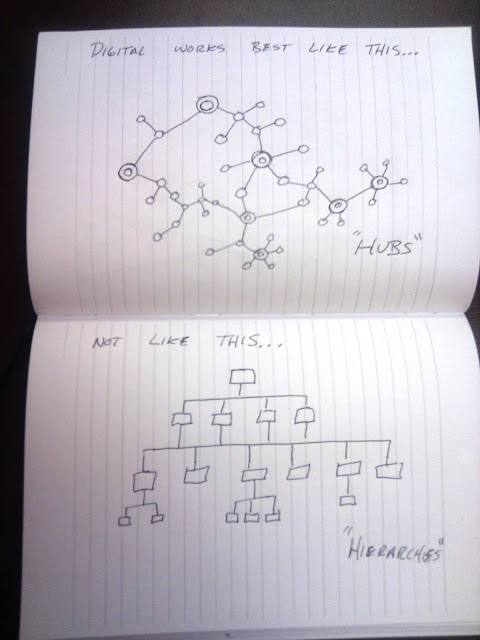 Digital: Hubs not Hierarchies
Many companies today still find themselves trying to
'tackle' digital.
Successful digital approaches begin more from the creations
of 'hubs' than the creation of hierarchies. A strong team paves way for a
strong hub. And today a strong hub can create a global language translation
platform accessible to the entire planet within days. A little insight can now
go a long, long way. Pretty awesome.
About the Author
Dan Madinabeitia is the creative director for the Institute for International Research. He has been the design lead for hundreds of design campaigns within the events industry. Coming from a fine art background, Dan evolved into a graphic designer. Eventually he took on leadership roles involving the oversight of graphic and web design disciplines as well as the creative voice behind many digital marketing strategies. His work has been published in Photoshop Creative Magazine. Follow Dan @DanMadina on Twitter or on LinkedIn.