It is important for companies in the biotech sector to adequately represent the patients they serve. With diversity and inclusion growing as a priority within the industry, organizations are beginning to look inwards at their working cultures and communities to review their progress.
In 2019, a survey carried out by the Biotechnology Innovation Organization found that 41% biotech organizations do not collect common diversity data such as demographics or discrepancies in performance rankings, pay and promotion. While over 80% of professionals demonstrated commitment to diversity and inclusion within their organization, less than 16% of companies had incorporated D&I targets into their hiring process or had set goals to promote or develop women or people of color within the organization.
At BioPharm America Digital in September this year, Paul Hastings, President & CEO at Nkarta Therapeutics, Sara Nayeem, Partner at venture capital firm NEA and Celia Economides, Senior Vice President of Strategy and External Affairs at Kezar Life Sciences, discussed what company leaders should look for to ensure they are actively making an impact.
Are you using a recruitment firm to find your candidates?
Nayeem highlighted that hiring personnel via recruitment agencies was the first step to increasing diversity and combating the influence of unconscious biases in the recruitment process. "Word of mouth [delivers] people that are already known to someone within the firm" she said. "We should all be pushing to make our searches more broadly known and that often means involving a search firm."
Have you set open diversity benchmarks?
"We've found that [recruitment firms] are very receptive if we say we've had this benchmark of 50% diverse candidates" said Nayeem. "50% of the candidates you bring in should be women, from an under-represented minority or both."
Hastings added that setting diversity targets as early as possible has been effective at Nkarta. "We published diversity and inclusion criteria on our website virtually Day One of the company's formation. We also are in the process of disclosing on our website our EEO statistics of what our company is comprised of, [along with] different diversity characteristics that people identify themselves at."
Are you aware of biases affecting your recruitment?
Nayeem explained that while she was working in recruiting processes for large banking institutions she would hear phrases such as "'this person's a great cultural fit, they were an athlete in some team at this reputable institution'. It doesn't make any sense," she said. "It just perpetuates this ongoing [idea of] 'someone who's like me'". [At NEA,] we've talked about 'cultural add' and not just 'cultural fit'. People can be great additions to the organization without necessarily being exactly like the people that we already have."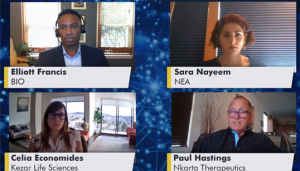 Does your recruiter deliver diverse candidates?
Hastings explained how he made a conscious effort to broaden his search when looking for candidates for his board at Nkarta. "When I was going through that process, I hired a recruiter who specializes in diversity. She has a registry of women in the industry who are eligible to sit on boards," he said.
"I won't hire a recruiter if they don't have a history of placing diverse candidates either," he added. "I look at people's histories." He also recommended asking recruiters 'why?' whenever they decline suitable candidates.
Are you broadening the criteria for roles in boards?
Economides reflected on the moment she was turned down by a recruiter for a board position she had the expertise for, simply because she wasn't a CEO. "Then I explained how I [met] almost every single one of his criteria, and I never even heard back from him."
She added, "how can we keep fostering diversity if we don't look beyond the C-suite to the people who actually have their hands involved in a lot of different things and want to be active?"
Nayeem described how, in her previous experience as a board member, she had often given advice when recruiting new members. "It's not just about going for the person with the biggest name who's just retired from some big organization... It's more about, what is this person actually going to add to the board? Are they going to interface with somebody on your team on a monthly basis and add something of value, and what do they bring that's different to what we already have on the board?".
Are you offering training to help develop new candidates?
"I think it's just sitting back and being really clear about [saying] 'do we really need to put this limitation on the spec? Can we broaden the spec?'" said Nayeem. "Often it means going younger, going a little more junior. Getting to know people when they're earlier in their career, thinking about training and developing people, particularly onboarding."
Learn more about how to invest in diversity in biotech by joining us for 'Investing in Diversity', a free on-demand session as part of Biotech Showcase Digital on January 11-15.