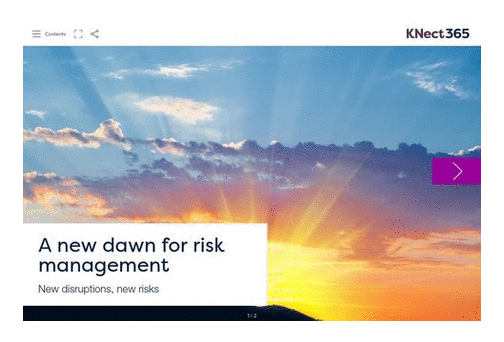 Click to read A new dawn for risk management
New disruptions, new risks
Risk management is transforming rapidly in front of our eyes.
The current state of geopolitics, the exponential evolution of technology, and the rising significance of regulatory compliance challenge today's risk managers to innovate.
In this eMagazine, we discuss some of these key emerging challenges risk managers will be facing in the near future.
Contents:
The global risk management community's top 10 concerns for 2019
by Vincent Beard
Risk, finance and regulatory reporting: adopting an integrated approach
by FinTech Futures
3 maxims to drive your climate risk management
by Roselyne Renel
The risks of outsourcing: working with AI startups
by Simon Greenman
Assessing idea risk for world-changing schema
by Guntram Werther
We hope you will find these stories inspirational and educational.