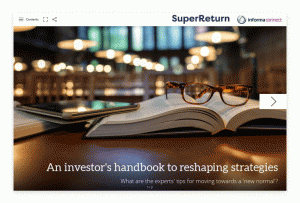 There is cautious optimism in the industry as we head further into 2021 and start to move towards a 'new normal' beyond the pandemic.
But what will the industry look like post-COVID and how will this reshape strategies? Sharing their insights with us at SuperReturn Europe Virtual 2021, our speakers looked to answer these questions with a focus on topics including ESG, technology, healthcare and more.
In addition, we take a look a the state of the secondary market as it gains more traction in GP-led deals and is changing the way institutional investors operate in the field. Niche and specialty finance, more front of mind for investors since the pandemic, is also explored in this eMagazine from an LP point of view.
With exclusive interviews and sessions taken directly from the event, we hope you enjoy this SuperReturn eMagazine.