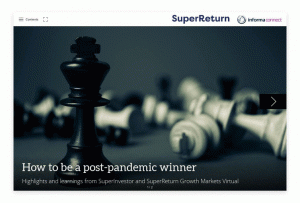 2020 had been a year like no other. The start of the decade brought unique challenges that had never been seen before and had really put the industry's resilience to the test.
However, it's not all doom and gloom. The pandemic had also brought some positive changes – from the accelerated shift to digital and tech-enabled products/services, to the development of essential services, notably in healthcare, technology, and digital infrastructure. And of course, ESG and impact are even more front of mind than ever.
From sessions taken directly from the event, to summaries and exclusive interviews, don't miss out the highlights from SuperInvestor and SuperReturn Growth Market Virtual, and the chance to learn more about the new trends and ways of overcoming the challenges of 2020.