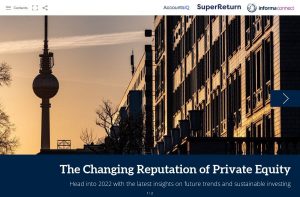 We are delighted to present the latest SuperReturn eMagazine, highlighting the current and future trends in private equity. This edition is filled with unique insights from contributing experts at our most recent events, such as SuperReturn International, SuperVenture and SuperReturn Africa.




In this issue we share exclusive sit-down interviews with Rishi Kapoor, Orlando Bravo, Peder Prahl and more. We also have panel sessions to watch, taken directly from SuperVenture and SuperReturn Middle East. These sessions delve into ESG opportunities, innovations in VC and portfolio value creation.


Contents include:
- Key trends in private equity
- The changing reputation of private equity
- Lessons for the future
- Hot topics from SuperVenture
- SuperReturn Africa: Experts share their perspectives
- Insights from SuperReturn Middle East

 


We hope you enjoy this eMagazine!