Seventy-seven percent of healthcare marketers agree that millennials are tomorrow's patients. The finding is a result of a survey, presented by ePharma and Medical Marketing and Media, to take a closer look at this demographic.
In a first-ever survey of it's kind, the results were drawn from 284 qualified respondents in the pharma and health marketing fields, between December 21, 2016 and January 18, 2017. Of that number, 140 respondents were professionals with expertise in pharma and medical devices, while 144 respondents were from agencies.
As millennial patients age (Gen Y), replacing baby boomers, marketers are forced to adapt to this changing market and the way they communicate, filtering through the noise of the digital era, to better serve these patients.
There were two key areas we took a look at; millennial attitudes and the top pharma challenges. Here are some of the results:
Most important attitudes healthcare marketers associate with Gen Y are:
79% self-care
78% highly social and distrusting of authority
75% purpose-driven
As for the top pharma challenges when targeting millennials:
81% mobile integration
81% patient centricity
78% of value-based outcomes
Take a look at the results!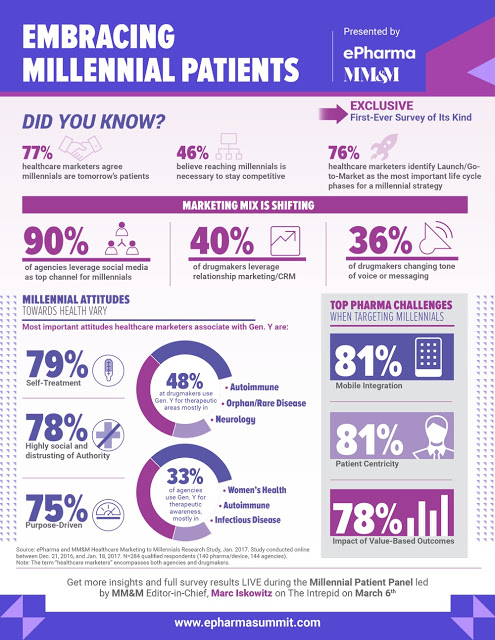 (This article was originally published on February 23, 2017)