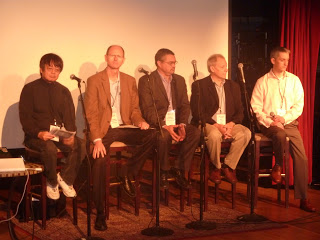 Panelists:
George Abe, Lecturer and Faculty Director of the Applied Management Research (AMR) Program, UCLA Anderson School of Management
Carrington Smith, PhD, Director, Licensing, Air Products and Chemicals, Inc
Stephen Meller, Chief Innovation Catalyst, P&G
Mike Summers, U.S. General Partner, Cody Gate Ventures
Frederic Zussa, Director, Worldwide Strategy & Innovation, Pfizer, Inc
Here are a few questions that were asked to the presenters during the interactive Q&A.
Q: How do you separate the junk ideas from the good ones?
George - Universities are filled with white space. If UCLA does not want to move forward with patents and licenses then they scrap it and won't patent it. If people are offended they often ask to patent the license themselves but once they find out how much it costs to file for a patent they usually back off.
Carrington - Part of open innovation is knowing what you have. In terms of white space, technology companies are limited. Most ideas that come forward address a business need
Q: How big is the team that goes to the decision process for patents?
George - There is a staff of 15 and you need a graduate degree from the technology space or business field.
Q: How do you measure the increases in innovation?
Stephen - We measured innovation as a "significant change" to what is already out there on the market.