Keynote Presenter: Alexander Blass, President, Alexander Blass International, Grand Prize Winner, Top Innovator of the Year Award for "revolutionizing charitable giving."
Innovation is changing by the day across the world. Bengal, India which was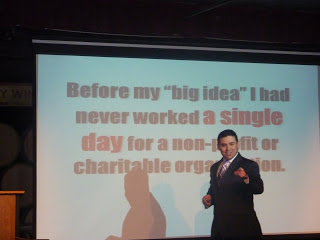 popular for the arts and culture is now producing the most engineers worldwide. Walmart starting importing only 6% internationally in 1995 but now today the company imports more than 50%. Companies like Bell Labs, Intuit, Alcatel-Lucent, Proctor & Gamble, Bombardier, NASA, & Pfizer which are all companies represented here at EPIC are all global leaders in the innovation space in its respective industry.
Alexander mentioned that you don't have to look at China or India for your next partnership. All you have to do is look to your right and your left. There are tons of companies in the US which you can partner with for innovation.
Great ideas require a great team to implement them. No great idea from a big company has come to place without a knowledgable team backing it up. Innovation reveals passion and values, and so it can say a lot about an innovator.
Alexander's passion was philanthropy and helping others because of his parent's experience surviving the Holocaust. His parents never turned their back away on anyone that needed help and this same principle can be shown through his innovations today. After spending many years as a venture capitalist he realized that he wasn't fulfilling his true passion.
True innovations improves the human experience whether it's putting a smile on someone's face or making someone money.