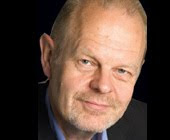 Kris Halvorsen
Chief Innovation Officer
Intuit
Per-Kristian (Kris) Halvorsen is the chief innovation officer and a senior vice president at Intuit. He is responsible for building the company's innovation capability by identifying and implementing social, mobile and other emerging technologies that will spur growth. He joined Intuit in 2006.
Before joining Intuit, Halvorsen was vice president and center director at HP Labs, where he started and led the research for the HP's services business. He established HP's research labs in India - the first IT industry research lab focused on creating products and services for the rapidly growing emerging markets - and in China.
From 1983 to 2000, Halvorsen was at the Xerox Palo Alto Research Center (PARC), where he was the founding director of the Information Sciences and Technology Lab. He has served as a member of the board of directors at Symantec, Autodesk, Finn.no and Iron Mountain.
Kris Halvorsen will be presenting "Bringing Innovation to Life" at EPIC Partnerships this October.
Bio courtesy of Intuit: http://about.intuit.com/about_intuit/executives/kris_halvorsen.jsp