Creating conversations, understanding customers, and introducing the "new parent" test for Fintech
Ted Mercer, VP Sales, Bluerush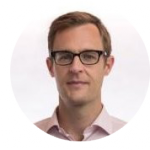 BlueRush has created IndiVideo, the interactive personalized video platform for financial services. IndiVideo is a highly scalable personalized video platform built to provide data-driven video content in an easy to understand, entertaining and compelling manner. BlueRush also offers a SaaS-based content engagement platform called DigitalReach, which aligns marketing, sales and compliance. Used by financial advisors, DigitalReach allows for the centralization, personalization, distribution, and tracking of content to ensure complete control over what is sent and to whom. BlueRush's products improve marketing and sales performance and generate greater client satisfaction and loyalty.
Building on over 10 years of experience creating engaging digital journeys for the world's most innovative financial institutions, BlueRush developed a completely new IndiVideo credit card selector and personalized video experience for their client, a Top 50 Global Bank.
Missed the last episode? Catch up now...