The value of momentum, life and legacy planning, and helping financial services customers grow up.
Harris Scher, VP, Strategic Partnerships, everplans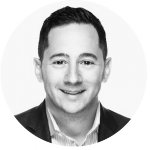 Harris has focused his nearly 17-year business development and sales career partnering with clients to understand their challenges and meet their objectives. Prior to joining Everplans, Harris was responsible for the management of various enterprise sales teams during his 14 year tenure at Bloomberg LP, focusing on data, technology, and regulatory driven solutions to financial institutions across North America. Harris is actively involved on the Board of the Anti-Defamation League (ADL), an avid traveler and adventurer, and also has a strong passion for food.
Missed the last episode? Catch up now...