Day three of Boston Innovation Festival began with an innovation manager who wandered into the word "innovation" and fell in love with the profession.
Mike Hatrick, Volvo Group Trucks Technology, has the title IP Strategy and Portfolio, which is interesting in itself. He is speaking on sustainable innovation building blocks — and making the leap from theory to reality. The "after party" effect of an innovation leader's role, when you see all the failures, epic and minuscule, it leaves an empty feeling.
It takes 1-3 years to go from peak to peak on an emotion / innovation cycle, starting with the new initiative and finishing with a great win. But, because of the size of the valleys and the intensity of the falls and climbs, people struggle to survive and make the effort sustainable.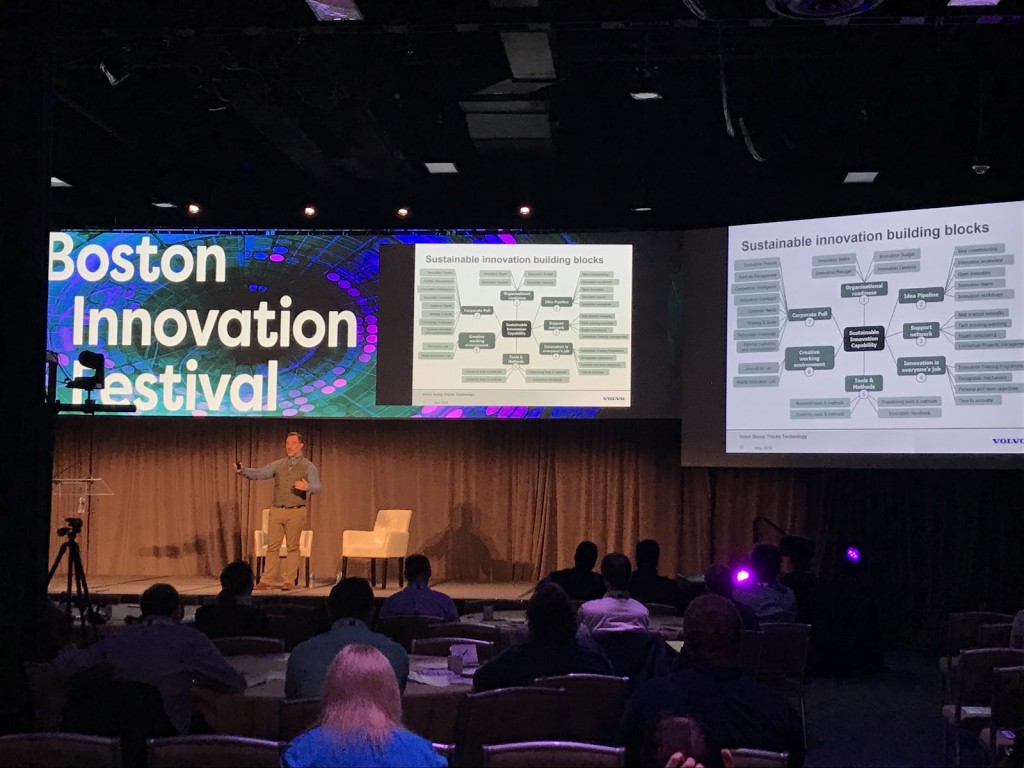 Mike's Sustainable Innovation Building Blocks.
I am stealing this idea. "We required the entire team to buy the most awful items in airport shops when we traveled, and it became a competition." It brought the team together and created a common, odd but amusing effort. Teams need a central objective to focus their mental activity and distract from the arduous nature of travel.
Ideas don't entirely come from "sustainable innovation structures." Mike recalls the winner of an award where his team came in second place. The winners got the idea while on a beach and hearing a sheep — it led to a surround sound innovation for TVs that tricked your brain to hear a sound from behind you.
Sometimes ideas come from sheep.
The organization doesn't want your best ideas, even the person who gave you the job. It is a long road and while roadmaps are great, alternative paths are often where the great results are delivered. This might be due to a lack of foundational education in our university systems, perhaps.
From where do innovation managers come? They blossom in an organization, but rarely are they nurtured and able to survive the challenges of this path in an organization. It is an interesting thing to think about, where does the base of academic education originate? Which universities are leading this effort? I've seen a few that take some of this on, but as a whole it seems lacking in academic discipline.
As always, Mike had some great insights for the morning audience. Here are three items I pulled forward as important nuggets:
Failed projects are talked about as whispers in the corners — and it impacts the culture of learning. Who wants to be connected to failure?
Keep the tension on, like a rubber band, once you let it go the organization snaps back to a comfortable place.
If you're up for it, innovation manager is rewarding, but it will be an emotional roller coaster you'll have to find ways to enjoy.
Thank you Mike for for the fundamentals and inspirational points.
About the Author: Aaron Keller (aaronkeller@capsule.us) is co-founder and managing principal of Capsule (capsule.us), a Minneapolis branding agency. He co-authored The Physics of Brand, physicsofbrand.com.