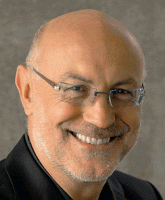 Gert Hildebrand
Chief Designer, MINI Cooper
BMW
Gert Hildebrand, chief designer for MINI, is somewhat taken aback when asked to talk about the design of the new MINI, the second generation of the product since becoming a part of the BMW Group. 'You shouldn't talk about design,' he insists. You should look at it. Design should be self-explanatory.'
And while arguably the new MINI is somewhat self-explanatory'that is, it hews very closely to its predecessor, particular on the exterior'Hildebrand's approach to design is worth understanding.
Hildebrand said that they started working on the vehicle back in 2001-2002, when the first vehicle was still new. 'An early decision we made was that we didn't want to change it dramatically, that we wanted to have an evolutionary design process.' He cites the examples of vehicles like the Porsche 911 and the VW Golf, cars that have advanced through gradual though perceptible changes, or what Hildebrand describes as 'steps big enough to create desire, but safe enough to have recognizability for the customers.'
Here's an exclusive interview with Gert Hildebrand from rpmgo.com
Also make sure to check out this video clip of Gert Hildebrand talking about design of the new Mini below.
Make sure not to miss Gert's keynote session BMW Mini Challenges Supported Design & Innovation Assumptions at FEI Europe 2011 in Berlin March 2-4, 2011. Hope to see you all there!
Bio courtesy of Automotive Design and Production
http://www.autofieldguide.com/articles/040702.html