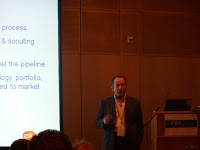 Presenter: Paul Isherwood, Director Innovation & External Networks, Nutritional Healthcare R&D, GlaxoSmithKline
Most companies have well defined activity management process in the early stages. There must be rigor in the fuzzy phase. But the collaboration stage differs from open innovation as open innovation is more explorative and quite fuzzy. The collaboration stage is a bit more defined and many partners should be confirmed at this point.
GSK has 16 technology scouts around the world actively seeking opportunities for open innovation. They have monthly telecoms to talk about needs and wants. The scouting network has proven very successful for GSK.
A recent survey conducted my NineSigma emphasizes the balance of Open Innovation and how the top 3 open innovations are Supplier co-innovation, scouting, and University co-innovation. GSK also hosts R&D Innovation Awards; it's held every 2 years and serves more as a high recognition for the best in innovation projects and ideas. Nominees are selected by their peers.
Q: Where is the highest ROI?
32% of have come from technology scouts and another 20% have come from other internal sources. External partners account for about 40% which is still a high number.
Q: Is there once place where you can bring everything in together?
It all comes together for the brand. VPs of marketing set the strategy of where they want to see the brand in 5 years.