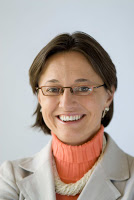 Dr. Sophie Vandebroek
CTO, Xerox & President
Xerox Innovation Group
Dr. Sophie Vandebroek is chief technology officer and president of the Xerox Innovation Group for Xerox Corporation. She was named to this position January 2006, and became a corporate vice president in February 2006.
Vandebroek is responsible for overseeing Xerox's worldwide research centers and for maximizing the company's multimillion-dollar investment in research and technology.
Most recently, she was chief engineer of Xerox Corporation and vice president of the Xerox Engineering Center. As chief engineer, a position she assumed in 2002, Vandebroek was responsible for coordinating Xerox's engineering efficiency and effectiveness, a period during which Xerox refreshed more than 95 percent of its office product line and launched its flagship iGen3' Digital Production Press. Prior to that, she served as chief technology officer at Carrier Corp. From 1991 until 2000, Vandebroek held a number of increasingly responsible roles at Xerox including technical advisor to Xerox's chief operating officer and director of the Xerox Research Centre of Canada.
Here's an article from FastCompany profiling Dr. Sophie Vandebroek.
Don't miss Dr. Sophie Vandebroek's keynote speech Innovation: Turning Inspiration Into Critical Customer Assets at the Front End of Innovation Conference this May in Boston. Hope to see you all there!
Bio courtesy of Xerox.