Getting Unstuck
How and why innovation teams get
stuck and proven ways to break them free.
At
MaddockDouglas
, we question how a sophisticated organization can be so committed to a
life-or-death mission'innovation'but still not achieve it. This was the
innovation paradox we wrote about in our book 'Brand New.'
Sadly,
years later, research shows that the paradox is more pronounced today than
ever. Companies are still getting stuck despite 84 percent of CEOs saying
innovation is critical to their strategy (a 20 percent jump since we wrote the
book). The good news is that the pattern of where and how innovation teams get
stuck is predictable. Better yet, there are proven and reliable ways to get
your team unstuck, accelerating innovation success in your company.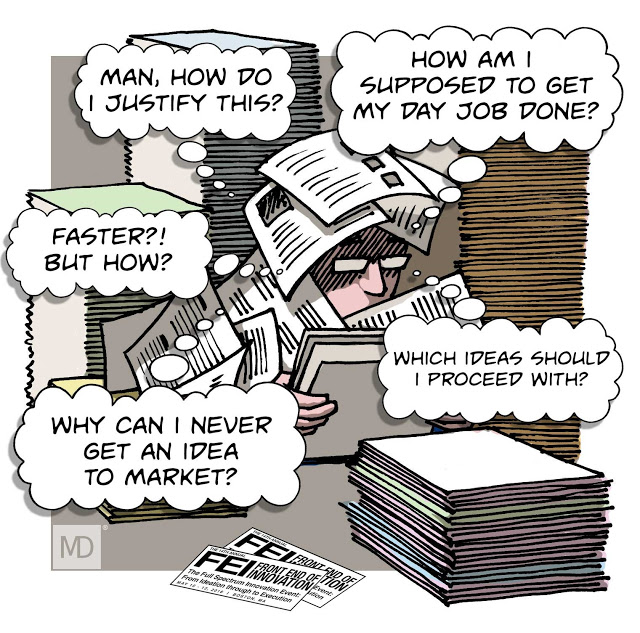 Maddock
Douglas is an innovation consultancy with 25 years of experience taking ideas
from mind to market. Over that time, we have seen the innovation practice
change and mature, and we have evolved with it. We have identified four key
factors that currently hamper innovation efforts. 
1.     
The
ability to better justify the investment in innovation
2.     
The
ability to innovate faster
3.     
The
ability to effectively prioritize innovation efforts
4.     
The
ability to get the ideas from mind to market
Mike Maddock will be speaking
on these topics and more. You will also have the opportunity to swing by our
booth to chat with our innovation consultants, receive personally signed
copies of our books and have some fun.
Mike Maddock is an
entrepreneur, inventor, writer and keynote speaker. He is the founding partner
and CEO of Maddock Douglas, the internationally recognized innovation
consulting firm that has helped more than 25 percent of the Fortune 100 design,
brand and launch new products, services, experiences and business models while
also empowering an agile culture that can continually innovate. A serial
entrepreneur, Maddock has launched six successful businesses and co-chairs
the Gathering of Titans Entrepreneurial Conclave at MIT. Maddock is a Forbes
contributor and co-author of three books about innovation: 'Free the Idea
Monkey...to focus on what matters most!,' 'Brand New: Solving the Innovation
Paradox' and 'Flirting With the Uninterested ' Innovating in a 'Sold,
Not Bought' Category.'
Hope to
see you in Boston!