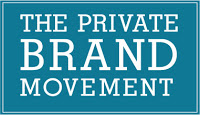 Private Brand, Store Brands, Own Brands'
The Private Brand Movement is an unprecedented gathering of brand and retail strategists who will come together to discuss the future of brands at retail. Top retailers and national brands will take the stage to share their journey of reinventing their brand strategy, packaging and design to be more relevant to today's new consumers. Conversations center around collaboration, transformation and innovation.
The Private Brand Movement
September 27-29, 2010
Hotel Sax, Chicago
iirusa.com/privatebrand
Real-world case studies will showcase how the best are developing a customer-centric brand strategy to fuel the design, marketing and brand communication strategy. This is not just a conference; it's a movement to revolutionize retail. Rise to the challenge of what's next for your brands and your consumers.
Key Deliverables for 2010
* Develop a Brand Strategy, articulate a brand promise and translate it into the market place
* New models of collaboration between brands and retailers for innovation and mutual product demand
* Choose the optimal portfolio mix for your consumers
* Packaging trends, what matters, what will pop off the shelf?
* Transform your design team into a brand building force
Download the brochure for more details.