The FUSE | CIULLA Welcome Cocktail Reception got our event off to a fun start last night, as part of the theme 'new dimensions of magical', posters were designed by the CIULLA design team for the event, and a magician wandered the CIULLA office. Check out the photos below:
This morning, our first main conference day here at Fuse 2012 is off to a great, (if maybe a bit sleepy on the audience's part), start with an inspiring welcome from our Fuse conference chairs: Debbie Millman and Cheryl Swanson. Debbie discussed "10 Things CEOs Should Know about Branding" and Cheryl took the stage to "teach us something new about someone old"

Cheryl Swanson teaching us something new about someone old. the #SilentGeneration and it's value to branding #FuseDesign
' Lex Evan (@LexEvan) April 19, 2012
We were soon all cracking up over Kraft Mac & Cheese's #OldBirdsNewTweets project.
Jonah Lehrer was next, taking us from Bob Dylan to Einstein in his exploration of creativity. He spoke of the techniques one can use to develop creativity and perhaps most importantly the need to leave time for serendipitous ideas to develop.
"Even Beethoven still needed to constantly refine his ideas until the genius of his music shown through." ' Jonah Leher #FUSEuni #fusedesign
' Gerard Galasso (@GerardGalasso) April 19, 2012
Based on the line at his book signing which followed, we'd say the session was inspirational and perhaps even truly "magical."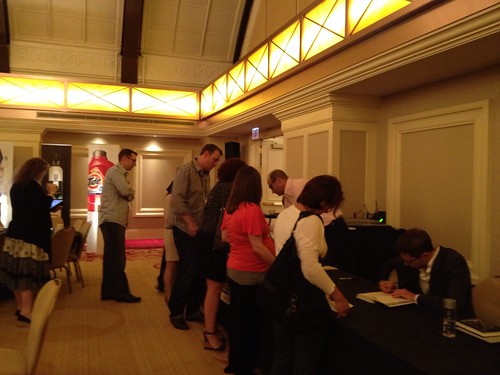 Maggie Macnab was up next, giving us some great insights into her design process:  

What would Latin American culture and technology look like together? --Maggie Macnab #fusedesign #designthinking twitter.com/alexBchung/sta'
' Alex Chung (@alexBchung) April 19, 2012
Showing us how permaculture is design thinking and, hearkening back to our semiotics conversations from yesterday,  leading us through the universal symbols that make up many of the logos we see around us every day. Maggie's moment of "magic," the quote she left us with:
"Make beauty, make meaning and please do what you love"
Michelle LeBlanc is a Social Media Strategist at IIR USA with a
specialization in marketing. She may be reached at mleblanc@iirusa.com